Thanks to the country's ongoing economic recovery, the job market now firmly favors job seekers. Perhaps it's no surprise, then, that two-thirds of U.S. businesses report difficulty recruiting new employees.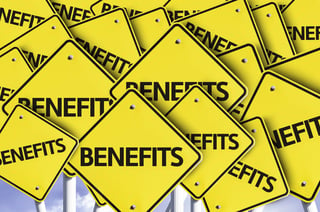 That's the latest finding from the Society for Human Resource Management (SHRM)'s annual Employee Benefits survey. Titled "2017 Employee Benefits: Remaining Competitive in a Challenging Talent Marketplace," the report examines more than 3,000 businesses' attitudes and current offerings as they relate to employee benefits.
Among other findings, the report suggests businesses have responded to the tough hiring conditions by improving their benefits packages. In fact, nearly one-third of organizations have upped their benefits offerings to remain competitive in the marketplace.
Given that benefits are second only to wages in influencing where employees choose to work, this move is the right one. What the business offers and how they offer it, though, matters just as much as the decision to enhance the overall package.
In this post, we'll examine relevant findings from the SHRM study and use them to make conclusions about the role benefits will play in the talent marketplace of the coming year.
Increasing benefits—health and wellness dominate
Businesses that increased their benefits offerings in 2016 did so primarily to remain competitive in the talent marketplace, according to the SHRM study. The push to become attractive to talented employees was so great, in fact, that only 6 percent of businesses decreased their benefits.
Health and wellness benefits—two of the largest pieces of most benefits packages—were the most likely to see increased investment from businesses. Twenty-two percent of businesses SHRM surveyed chose to enhance health benefits, and 24 percent chose to enhance wellness offerings.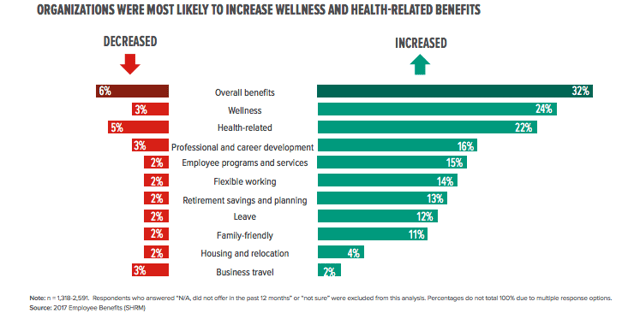 Within the health benefits arena, businesses have started extending insurance coverage beyond traditional participants. One-third of surveyed companies offered coverage to part-time employees—up from 27 percent in 2014. Additionally, the large increase in coverage of spouses, which occurred between 2014 and 2016, held this year as businesses continue to recognize the importance of spousal coverage in attracting and retaining employees. Roughly half of businesses also extend coverage to domestic partners.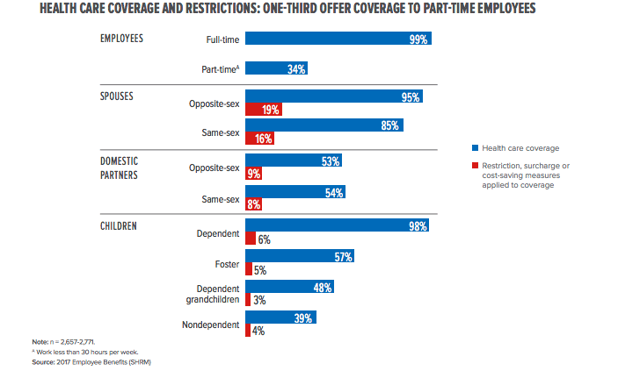 PPOs remained the most common type of health insurance plan, though more organizations are now offering health savings accounts (HSAs) as well. More than half of businesses offered an HSA in 2017, and more than one-third (36 percent) contributed to that HSA.
In wellness benefits, businesses were most likely to increase offerings by providing wellness resources and information (71 percent), while 62 percent gave wellness tips or information via newsletter, email, or other electronic communication. About three out of five organizations (59 percent) offered a general wellness program.
Beyond health and wellness, businesses have also shown interest in unique benefits offerings, such as professional and career development (16 percent), flexible working (14 percent), and housing and relocation (4 percent). Retirement benefits, a more standard offering, was somewhat popular, with 13 percent of surveyed businesses increasing offerings in this area.
The cost of health benefits
Although businesses were most likely to increase investment in health benefits over any other form of benefits, barring wellness, they also report concern over cost. Two-thirds of organizations said they were "very concerned" about controlling health benefits costs, and another 31 percent said they were "somewhat concerned."
That anxiety is warranted. From 2016 to 2017, health benefits costs increased for 79 percent of businesses, with an 11 percent average increase. And while businesses upped their health benefits offerings overall, they've also sought to mitigate costs by implementing cost-sharing as well as restrictions on coverage for spouses and dependents.
Currently, just 16 percent of businesses cover the full cost of coverage for full-time employees, with even fewer covering part-time employees' premiums. Eight percent of companies don't contribute anything toward part-time employees' expenses.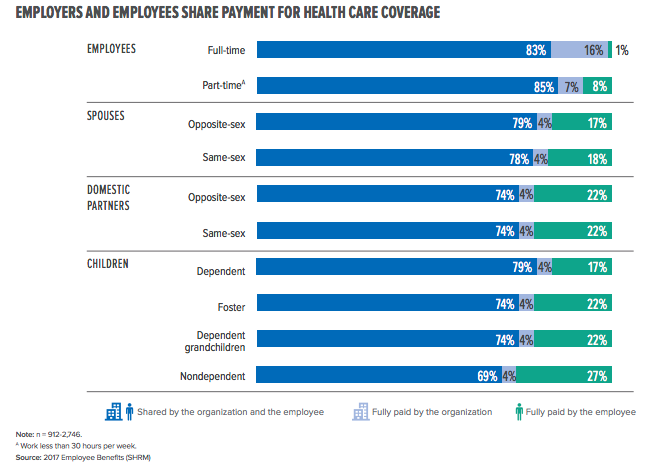 Businesses also add surcharges to coverage for employees' spouses if the spouse was offered coverage by another company. Other cost-saving measures include providing only secondary coverage to spouses and dependents, charging higher premiums, and not allowing employees to use pretax wages to pay for spousal premiums.
While these strategies help businesses control costs, they may also diminish the benefits package's value for employees. For this reason, some small businesses have explored alternative means of delivering health benefits to employees.
A better way to hire and keep employees
Traditionally, businesses have understood employee benefits to be a series of programs and insurance coverages offered by the business to employees. However, a new benefits category—personalized benefits—presumes differently.
Under a personalized benefits solution, the business offers tax-free money to employees and employees use that money to purchase the coverage and services they desire. This solution removes the business as the middleman between the provider and the employee, and the employee is free to choose the insurance policy or service that best fits their needs. In this category, the benefit becomes the tax-free money—not the service offered. In many cases, personalized benefits results in cost savings for the business as well as increased satisfaction for the employee.
In health benefits, one of the most popular methods of delivering personalized benefits is through the health reimbursement arrangement (HRA). Under an HRA, businesses offer a monthly, tax-free allowance to employees, and employees purchase their own individual health insurance policies. Employees can then request reimbursement from their monthly allowance for their premiums, alongside any other qualified medical expenses.
HRAs have been gaining in popularity—particularly with the creation of the Qualified Small Employer Health Reimbursement Arrangement (QSEHRA) in December 2016—and according to the SHRM study, 20 percent of businesses currently use them.
HRAs allow the business to control costs by fixing a monthly allowance per employee. And by virtue of their structure, they can be used to cover full-time employees, part-time employees, and employees' spouses and dependents. Administration is also simple, depending on whether the business chooses to manually self-administer the benefit or outsource administration to a personalized benefits automation solution like PeopleKeep.
With this increased value to employees and time and cost savings for businesses, HRAs and other personalized benefits prepare companies for the progressively competitive talent pool. The move in this direction is so pronounced, PeopleKeep expects the personalized benefits category to claim 40 percent of the market by 2025.