Customer loyalty is the backbone of your business. Without dedicated customers who purchase your products or services, you're not left with much of a business. You have hundreds, if not thousands of customers who patronize your business and the last thing you want to do is lose them to competition or for any other reason.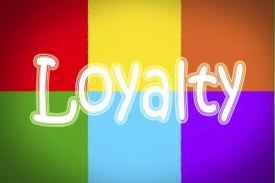 The key to building customer loyalty is brand recognition, and then transitioning your customer base to brand dedication. And yet, building successful brand recognition is a major small business challenge. With thousands of brands begging for attention by consumers through dozens of media channels, it's a tall task to become one of the brands at the top. It's possible, however. Those big box brands that stand out in your mind right now were once small businesses too.
Creating brand loyalty and repeat customers is like a race set at a slow and steady pace. Be consistent, employ these marketing strategies, and over time, your brand will develop recognition and following.
Building and Maintaining A Customer Base
Start with these 6 simple steps to building and maintaining your customer base:
Never put first impressions second. Treat the interaction with your customers as if you were on a date with them. Find ways to genuinely flatter them, be kind and sincere, and let them know of your honest intentions of providing them with a quality product or service that you guarantee.

Let them connect on their terms. Customers and potential customers don't appreciate a barrage of irritating emails or obnoxious postcards. Whether you market through direct mail, phone calls, email, Google Ads, or newsletters, always give them an option to opt out. Craft your marketing message in a concise, clever way, using fonts and colors that people don't find off putting. Design your advertising to reflect a product that you yourself would be interested in learning more about.

Listen to your customers. Don't try to simply be a money making machine. Your customers are people with feelings, opinions, and important input. Be a real person and build a business to serve real people. Show them you care by having meaningful conversations and asking for feedback about your products or services. Ask for constructive criticism and then implement changes.

Understand what makes your customers tick. Learn how they feel, think and behave toward your brand. Engage them in social media, administer surveys, and encourage suggestions. Encourage online reviews and respond to each of them. Read blog posts related to your brand to get more information.

Serve you customers relentlessly. Did you know 84 percent of customers who leave, do so because of poor service? Give your customers every reason to stay with you and absolutely no reason to leave. Push your business and employees to continue to stay relevant in your customers' lives and in the community. Find ways to continually enhance the customer experience.

Reward your customers. Give them discounts, small gifts for their business, spotlight features, awards, pet names, coupons. Recognize them on social media. Take care of them in exactly the same way you would like to be taken care of.
Conclusion
Above all else, you ultimately need to deliver on what your brand stands for. Become unstoppable in your dedication to deliver on the brand promises every single day. If your brand has truth behind its claims, you are certain to experience success.
Oprah stands for hope, empowerment and taking charge of your life. Harley-Davidson offers freedom of the open road. Geico promises to save you 15 percent or more on car insurance. Decide what your brand promises and then deliver on it, steadily and consistently.
What are your ideas for building brand loyalty? Please share your thoughts!