At the height of the Cold War, in 1985, as an economic advisor to President Reagan, I was giving a lecture at Moscow University on Third World Debt. A Soviet economist stood up and virulently challenged me saying: "How can you work for a country as barbaric as the United States where if you lose your job you also lose your health insurance?"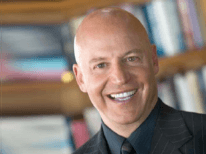 I flatly told my Soviet colleague that he was wrong, and returned to the subject at hand—the debt of Mexico, Venezuela, and Brazil. His virulence affected me and I made a note to research the subject of health insurance when I returned to Washington. To my shock when I returned home, I discovered that he was correct.

I hadn't thought much about health insurance until this event. My parents didn't get sick until they were old enough for Medicare. My jobs, starting with my first job at Citibank after college, came with health insurance. And it never occurred to me that a nation as compassionate as the United States would sanction something as barbaric as cancelling one's health insurance when they lost their employment.

As I researched the subject further I discovered that this policy was not only barbaric for individuals—who lost their health insurance when they lost their job, but it was barbaric for small employers—who were forced to make terrible moral decisions at the workplace. Later that year I testified before the U.S. Congress as follows:


Show me a person who owns their own 100-employee business, and I'll show you an employer who knows the first name of each child of an employee who has diabetes—even though they are not supposed to know. A small employer with a $35,000-a-year employee should not be burdened with the $75,000-a-year medical cost for a child of that employee who has diabetes—or have to face the terrible choice between staying in business versus taking care of the sick child of an employee.

The next year, in 1986, Congress passed COBRA putting a temporary band-aid on the problem—by allowing terminated employees to pay to stay on their former employer's health plan for 18-36 months.

I made myself a promise in 1985—that I would work diligently to separate U.S. health insurance from employment. Since then, I've written several books on this subject and lobbied for individual (vs group) health benefits. In 2004, I received an honorary doctorate for my work from 1995-2003 in establishing Health Savings Accounts—although this was bittersweet because my original concept for HSAs was not as a supplementary account for medical expenses, but as as a universal health account that could pay for premiums on individual policies.

And now, I see victory for all Americans in my sights.

This change parallels a similar change in the 1970s when we shifted employers and employees from Defined Benefit to Defined Contribution retirement plans. In the 1970s, I heard my colleagues cry out: "Americans are too stupid to manage their own retirement benefits." Today 70 million American families have 401(k)s and 50 million have IRAs.

The new health reform legislation makes it much easier to get individual policies—since September 23, 2010, children are no longer subject to medical underwriting nor can their parents be charged more if they are ill. This and other individual policy benefits will be extended to all Americans over the next few years.

Moreover, in lieu of having a group plan, employers are now allowed to reimburse employees tax-free for the cost of individual policies. And employees are allowed to re-direct their own pre-tax wages to pay for individual policies—even if their employer doesn't make any employer contribution. These recent changes alone can save employers and employees up to 50% of the cost of individual policies in just income and wage taxes.

Looking back, I'm proud of our nation, and especially proud to be part of the health insurance industry that has brought about these changes.