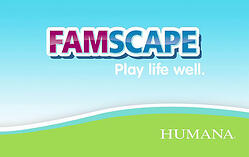 Humana Inc. announced today that it is launching a game that's designed to motivate players to achieve healthy-living goals. The game is available online through the FamScape website – www.myFamScape.com – and in select Best Buy stores.
Players can connect with others in user-created villages, participate in challenges such as attending yoga classes, practicing music or surfing, and receive points based on the completion of challenges. The awarded points can be used to acquire in-game items, such as enhancements to the member's village. In the premium version, members can earn real-world rewards, such as gift certificates and discounts on popular household items.
Humana will make FamScape available to all its members for the first 90 days after the game's launch. Humana members should check for a 'free' access code within the Humana.com member portal and inside various member publications.
For more information, visit the Humana website.