What are the top five employee mistakes with health benefits enrollment? If you're a health insurance broker or consultant the list may not surprise you. But, whether you're a broker or an employer, knowing what these common mistakes are can help you prevent them before they happen. And preventing these mistakes will help you create health benefits employees love.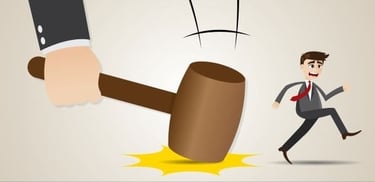 Top 5 Employee Mistakes
In a recent survey by Colonial Life, 400 employee benefits advisors were asked "What are the top mistakes you see employees make during benefits enrollment each year?" Of the 400 advisors surveyed, 81% agreed that employees assume they don't need the benefits offered. Additionally, most say employees don't understand what their benefits are. One survey respondent wrote, "you don't go to court without your lawyer's advice or invest in the stock market without an advisor's input, so why go to enroll in your benefits without a professional's advice?"
The five top mistakes experienced benefits advisors say employees make during benefits enrollment are:
Assuming they don't need the benefits being offered without first talking with a benefits counselor – 81%

Not reading the benefits information before the enrollment – 69%

Not knowing what benefits they currently have and what they cost – 69%

Forgetting to talk with their spouse about their family's needs before enrollment – 67%

Assuming the cost of a new benefit is unaffordable without seeing any prices – 66%
What do all of these missteps have in common? They all relate to lack of information and education.
Education is needed for both the employer and employees. Employers should do as much as they can to provide information and resources to employees. Meanwhile, employees need to take the time and put in the effort to learn about the plan being offered, and educate themselves on their options, needs, and limitations.
What Employees Want When Understanding Health Benefits
According to the survey report, employees say understanding the health benefits is most important, followed by financial understanding, and having choices to customize their health benefits. They also want to have regular communication and convenient access to help.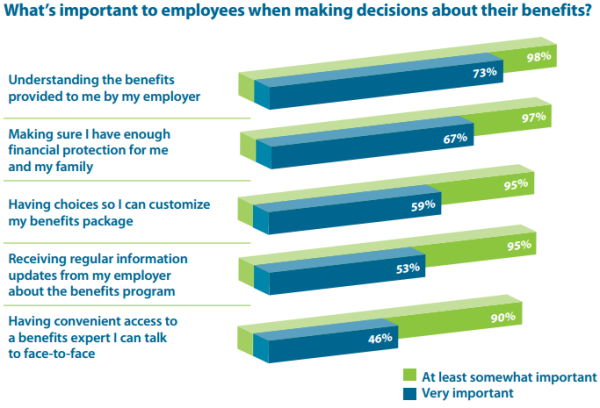 Source: Colonial Life
What This Means for Employers & Brokers
To make the health benefits program successful, employers should supply all necessary information and provide support to employees. Whether offering traditional health benefits or defined contribution health benefits -- or anything in between -- brokers can offer valued expertise in educating employees and making the benefits program a success.
Employees also need to know where they can go with questions and for additional resources when they run into problems - during enrollment time and in the future. This is more than providing a one-time training meeting, distributing enrollment packets, and getting employees enrolled (although these activities are also necessary). The support and education must be ongoing for employees.
What do you think the top employee mistakes are with health benefits enrollment? What strategies do you deploy to help educate employees about health benefits? Leave a comment below.