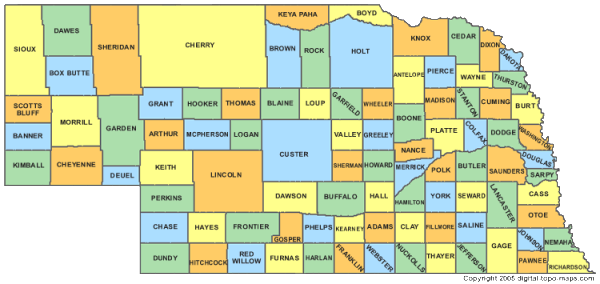 The Nebraska Health Insurance Exchange recently released proposed rates for health insurance plans that will be offered through their federally-run health insurance exchange opening October 1, 2013.
What are the projected health insurance plan rates, and how do the rates compare to current individual and small group plan rates? Read on.
Nebraska Health Insurance Exchange – Carriers
Four (4) insurance companies will be providing plans through Nebraska's Health Insurance Exchange for both individual and/or small group health insurance plans. These carriers include:
Blue Cross Blue Shield of Nebraska
Coventry Health
CoOportunity
Health Alliance Midwest
Final plans will be displayed October 1, 2013 at www.healthcare.gov. Plan coverage starts January 1, 2014.
Nebraska Health Insurance Exchange – Sample Plan Rates
The Nebraska Insurance Department provided sample rates by age, level of plan, and regions. Sample plan rates were released for both the individual and small group plans. For example:
A 42-year-old non-smoker would pay $296/month for a Coventry Silver plan (for an individual plan)
A small employer would pay $366/month to cover a 42-year-old non-smoker with a Coventry Silver plan (small group plan)
To look up more rate samples see the following documents from the Nebraska Department of Insurance website:
Nebraska Health Insurance Exchange – Rate Comparison
The projected individual plan rates for 2014 vary from 22% less than current plans, to more than double of the rates from 2013. But it's important to note that comparing new rates to old rates must be taken with a grain of salt as the health benefits that will be provided by policies in 2014 will be more extensive than the coverage in past years.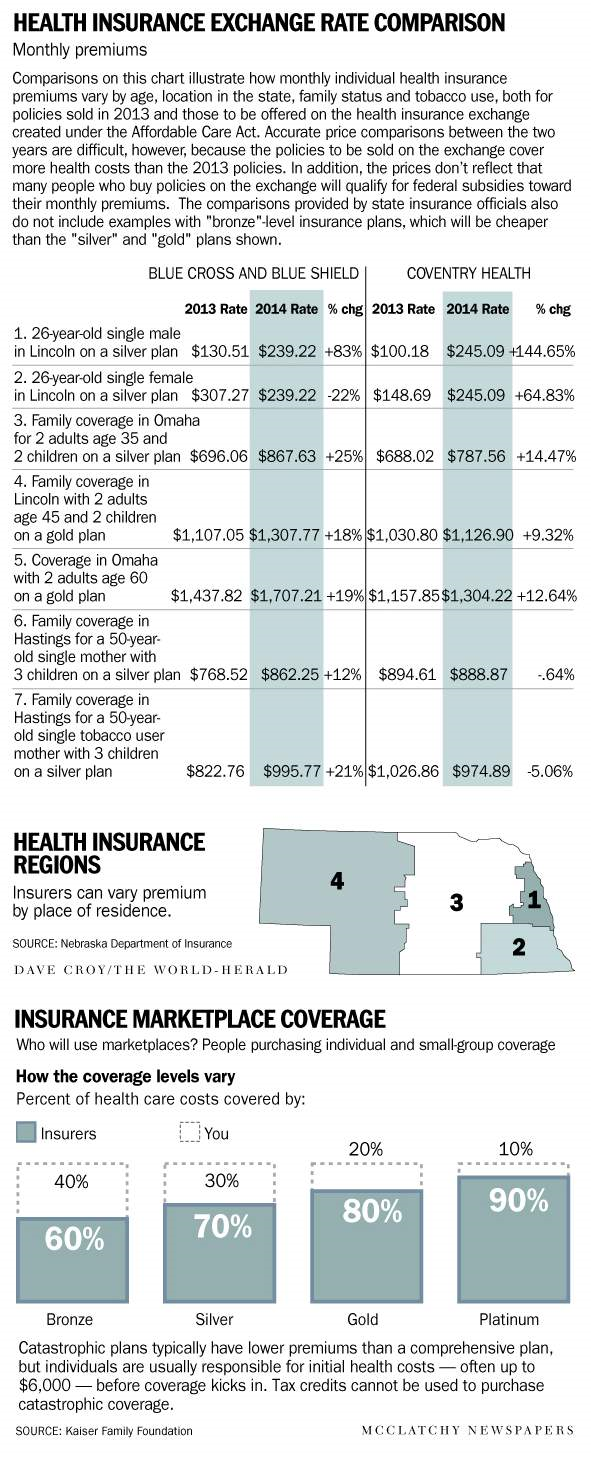 Chart source: Live Well Nebraska
Tom Gilsdorf, director of product development for Blue Cross Blue Shield of Nebraska – the state's largest current health insurer, and one of the four companies to offer plans through the exchange - states that the rate comparison between years, "is not an apples-to-apples comparison".
In addition, these comparisons do not take into account that federal premium subsidies are going to apply to an estimated 169,000 Nebraskans who buy health insurance through the exchange. Insurance policies sold through the exchange will provide much broader coverage than most individual policies in effect today. All policies will be required to cover essential health benefits, which include:
outpatient care
emergency services
hospitalization
maternity and newborn care
mental health and substance abuse services
prescription drugs
rehabilitative services
laboratory services
preventive and wellness services and chronic disease management
pediatric dental and vision services
So, whether a Nebraskan's insurance premium is going to increase or decrease is going to vary from individual to individual.
What do you think about the proposed Nebraska Health Insurance Exchange plan rates? Join the discussion by leaving a comment below.