This health benefits example is meant to illustrate the potential cost savings for small businesses, and for employees, through using a defined contribution approach with the health insurance subsidies. The health insurance subsidies will be available to eligible employees in 2014 through the new health insurance marketplaces.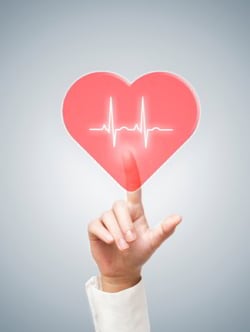 Amy's Defined Contribution Example
In 2014, "Amy's" employer decided not to offer traditional healthcare coverage. Instead, Amy's employer offered a defined contribution plan which lets Amy, and other employees, take advantage of the health insurance subsidies.
Amy earns $44,000 as an HR Manager at a software startup company in Washington state. Amy is 36 years old with two children.
Because Amy's 22-person company decided not to offer a traditional group health insurance plan, Amy is eligible for a health insurance subsidy based on her income and family size.
Amy purchases health insurance for herself and her two children from her state's health marketplace for a discounted price of $263/month. This includes a government subsidy of $365/month.
Amy's company contributes $200/month pre-taxed through her "pure" defined contribution plan. After the government discount and her employer's contribution, Amy's total out-of-pocket amount is only $63/month.
How does this type of benefit approach save Amy and her company on the cost of her health insurance? Let's crunch the numbers.
Cost of Amy's Health Insurance with Defined Contribution and the Health Insurance Subsidies
With a defined contribution and health insurance subsidies approach, Amy's total premium cost is $628/month through her health insurance marketplace. This premium amount is split three ways: her government health insurance subsidy is $365/month, her employer contributes $200/month through the defined contribution HRA plan, and Amy pays $63/month.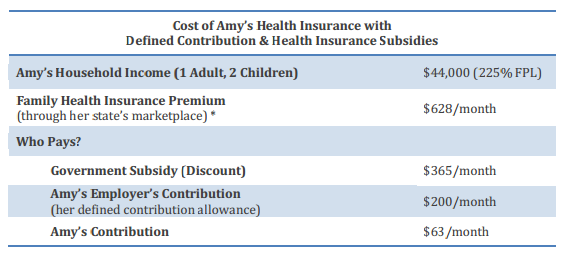 Cost of Amy's Health Insurance with Group Health Insurance
If Amy's employer offered a group health insurance plan, Amy's total premium cost would have been $1,312/month through her employer's group plan. This premium amount would have been split two ways: in this example her employer would have contributed 50% for a family plan and paid $656/month, and Amy would pay $656/month.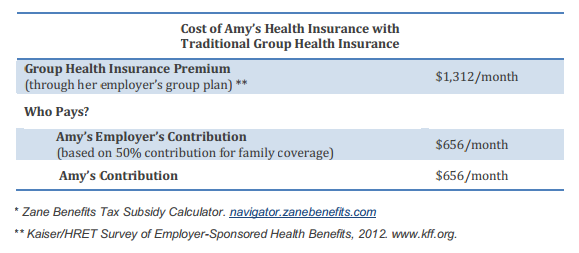 Bottom Line?
Because Amy's employer offered health insurance coverage through defined contribution paired with the health insurance subsidies (instead of a traditional group health plan), both the company and Amy saved money for same or better health insurance coverage.
In this example, Amy's employer saved $456/month or $5,473/year.
Amy saved $592/month or $7,104/year.
Read more about defined contribution and ObamaCare here.