The cost of health care for a typical American family of four, covered by an average employer-sponsored health plan, is $23,215 a year -- up 5.4% from 2013. This is according to the 2014 Milliman Medical Index (MMI).
The 2014 Milliman Medical Index (MMI) study provides a unique snapshot of health care costs. Instead of just looking at the employer's cost of health insurance or the family's medical expenses, the 2014 MMI takes into account the combined cost of employer-sponsored health care including:
Premiums the employer pays to cover the family,

Premiums the employee pays for the coverage, and

Out-of-pocket expenses the employee pays for medical care.
Cost of health care increases 5.4%
According to the 2014 MMI, the total annual cost of health care to cover a typical family of four through an employer-sponsored plan is $23,215. Again, this amount includes the employer-sponsored insurance premiums, and the employee's out-of-pocket family medical expenses.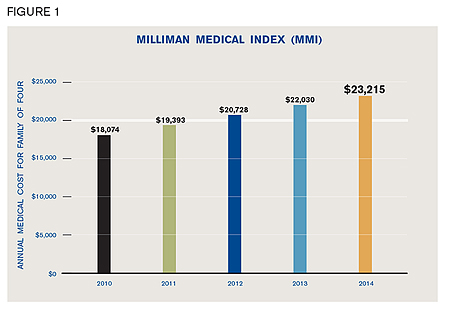 Source: 2014 MMI
The MMI has more than doubled over the past 10 years, growing from $11,192 to $23,215, however the 5.4% growth rate from 2013 to 2014 is the lowest annual change since the MMI was first calculated in 2002. The highest annual cost increase was 7.8% from 2009 to 2010.
Health care costs increasingly shifting to employees
In each of the past four years, employees are paying a higher percentage of the total cost of care. The total employee cost (payroll deductions plus out-of-pocket expenses) increased by approximately 32% from 2010 to 2014, while employer costs (premium contributions) increased by 26%.
According to the 2014 MMI, of the $23,215 health care cost for a family of four, the employer pays on average 13,520 (58%) toward the family's health care costs, while the employee pays the remaining $9,695 (42%). This represents a cost increase of 6% for employees, compared with the 2013 total employee cost of $9,144.
On average, the employee's costs are split between premium-sharing ($5,908) and out-of-pocket expenses such as co-pays, deductible expenses, pharmacy, etc. ($3,787).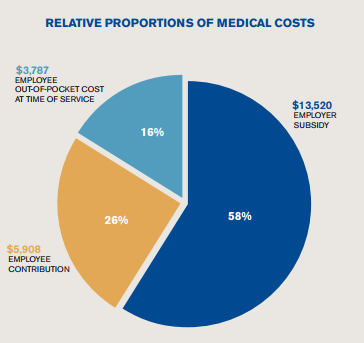 Source: 2014 MMI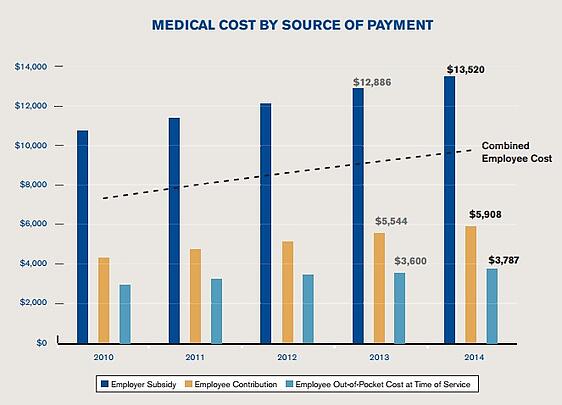 Source: 2014 MMI
Factors causing rise in health care costs
Although the annual rate of increase is down, the 2014 MMI notes it is still well above the rate of growth in the consumer price index (CPI). The report describes the following factors that may impact the rising cost of health care costs in the future:
The economy
Supply and demand influences
Healthcare provider engagement in cost control
Specialty pharmacy
Transparency
Click here to read the full 2014 MMI report.
What stands out to you? Join the discussion below.