Welcome to the new monthly employee newsletter. The goal of the newsletter is to provide you information and resources to make your Zane Plan easy to use and a valuable health benefit. The May employee newsletter provides updates on the following topics: satisfaction surveys, help center articles, and your Zane Benefits support team.
How Can We Best Serve You?

Over the next couple of months, we will be reaching out to employees to conduct a 5-minute phone survey. During the survey, we will ask about your satisfaction with your Zane Plan, your experience with your Zane online account, and your general impression of your health benefit. Our company strives to be open, honest, accurate, and consistent; so by participating in this survey you can let us know how we're doing, and how we can best serve you!
We're grateful in advance for your time.
And as a reminder, you can provide ideas and feedback anytime online at answers.zanebenefits.com (click on "feedback").
Help and Support Center
Did you know we offer an online help and support center with step-by-step tutorials and FAQs? Here are three of our most popular articles:
How to submit a claim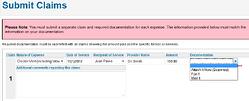 This article provides step-by-step instructions on how to submit claims for reimbursement. A claim with your Zane Plan is simply your request for reimbursement. To submit a claim, you will fill out and sign a claim form (electronically or written) and send documentation verifying the expense. There are several ways to submit a claim to your Zane Plan. Click here to read full tutorial.
Documentation requirements for claims
With each claim, you are required to submit documentation verifying the expense. In general, documentation needs to show three pieces of information: (1) Start of the coverage period, (2) Type of coverage (3) Premium amount you're being billed. Click here to read the full tutorial.

7 tips for submitting claims
To help you submit your claims correctly and get them approved quickly, we've provided seven tips for submitting claims. Our top tips include: submit your claim online, review your supporting documentation, and submit your claims individually by date of service. Click here to read the full tutorial.
Current Claims Processing Time: 15 Minutes
Our claims processing time today is 15 minutes! That means if you submitted a claim online today, we reviewed it and sent you an email within 15 minutes. (Note: We guarantee 48 hours, and faxed or mailed claims may take longer to process.) What's the status of your claim? Log in to your online Zane account at any time. Tip: Make sure we have the right email on file. You can update your email in your online account under "My Account."
We're Here to Support You
Your Zane Benefits support team is here to answer questions about your claims, your Zane Plan, your online Zane account, and health care reform. We're a high-feedback company. How are we doing?
Claims Support | support@zanebenefits.com | Monday-Friday, 8am-5pm MT
Search Tutorials & FAQs | answers.zanebenefits.com