Starting in 2014, as part of the Affordable Care Act (ACA), health insurance coverage for individuals and small businesses will become available through new state health insurance exchanges. Most importantly, the key tax credits (e.g. the small business healthcare tax credits) and tax subsidies (e.g. individual health insurance tax subsidies) will only be available for coverage purchased via a state health insurance exchanges.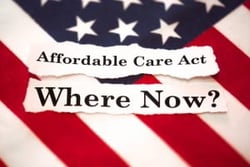 All states have three options for setting up a state health insurance exchange for 2014:
Build a State-Based Exchange

Enter into a State-Federal Partnership Exchange

Default to a Federally-Facilitated Exchange
Idaho plans to offer a state-based exchange called Idaho Health Insurance Exchange. The Exchange will open in October 2013, for coverage starting January 1, 2013.
Idaho Health Insurance Exchange - What is it?
Beginning with an open enrollment period in October 2013, the Idaho Health Insurance Exchange will help individuals and small employers shop for, select, and enroll in Qualified Health Plans (QHPs). By providing one-stop shopping for a qualified health plan, Exchanges will make purchasing health insurance easier and more understandable.
The Exchange will be open to those who currently purchase insurance in the individual market. This group will include, for example, early retirees (pre-Medicare eligible retirees), the self-employed, individuals whose employers do not provide insurance, or those who cannot afford their employer's insurance. The Small Business Health Option Program ("SHOP") will be open to firms with 100 or fewer employees.
According to the Idaho Governor's office, 278,800 or just under approximately 20% of Idahoans don't have health insurance.
Click here to view the current Idaho Health Insurance Exchange Website.
Idaho Health Insurance Exchange - How was it Formed?
On December 11, 2012, Governor C.L. Otter announced Idaho's commitment to the establishment of a state-based health insurance exchange, noting he is seeking legislative approval. On January 3, 2013, Idaho received conditional approval from the U.S Department of Health and Human Services (HHS) to establish a state-based exchange. There was some speculation whether the Exchange would be approved by the House in time. However, Idaho House Bill 248 was passed and signed by Governor Otter on March 28, 2013 authorizing a state-based health insurance exchange.
Final approval is contingent upon the state complying with future guidelines and regulations, demonstrating legal authority for all state-based Exchange functions, and developing a revised implementation timeline. If the Exchange is not ready in time, Idaho will default to a federally-facilitated exchange.
Idaho Health Insurance Exchange - Role of Insurance Professionals
According to the Idaho SBE Blueprint, Idaho envisions agents and brokers assisting qualified individuals, employers, and employees with enrollment in QHPs in the same manner as is done in the traditional market (providing individuals and employers with information regarding health insurance, assisting in health plan enrollment, etc.). Idaho envisions agents and brokers assisting consumers, including individuals and small employers, access appropriate coverage through the Idaho Exchange, enroll in health plans, and apply for premium tax credits.
While Idaho agents and brokers will be urged to provide consumers with information that can also be found on the Exchange Web site, agents and brokers will be permitted to provide information based on their experience with a QHP (in much the same manner as is done in the current market).
Idaho agents and brokers wishing to assist consumers in Exchange enrollment and QHP selection must be officially registered with the Idaho Exchange. This registration could include a minimum (e.g. 24 hour training requirement) and a written exam at the end of the training to determine certification. Registration and training details are expected to be released by late summer 2013.
Idaho Health Insurance Exchange - Role of Navigators
As required by ACA, the Idaho Health Insurance Exchange will have a Navigator program to assist individuals and small businesses "navigate" the Exchange. According to the Idaho blueprint, the Navigator program will be structured through a set of standards to be developed by the Idaho Exchange, with assistance from the DOI,to prevent, minimize, and mitigate any kind of conflicts of interest that may exist and to ensure that all participating entities and individuals have appropriate integrity.
Navigators can be licensed agents or brokers, however Navigators may not receive compensation for soliciting or selling health insurance and so can not also be acting as a traditional agent or broker. The Idaho Exchange will also mandate that Navigators comply with the privacy and security standards for the Exchange set forth in 45 CFR 155.260, as well as any further privacy and security measures adopted by the Idaho Exchange Board.