Starting in 2014, as part of the Affordable Care Act (ACA), health insurance coverage for individuals and small businesses will become available through new state health insurance marketplaces.

Connecticut, considered by some as the "nation's insurance capital," will offer a state-based exchange called Access Health CT (www.accesshealthct.com).
The Exchange will open October 1, 2013, for coverage starting January 1, 2014.
Connecticut Health Insurance Exchange - What is It?
According to the Connecticut Health Insurance Exchange, the mission of the Exchange is to increase the number of insured residents in Connecticut, promote health, lower costs and eliminate health disparities. The Exchange website, Access Health CT, aims to provide an on-line eligibility, shopping and enrollment experience for state residents and small businesses.
The Exchange aims to enroll up to 220,000 uninsured residents (nearly two thirds of the state's 350,000 uninsured residents). However, this is ambitious as the Congressional Budget Office (CBO) predicts only a third of the nation's uninsured are expected to enroll in the first year of the exchanges. The Exchange is undergoing aggressive outreach efforts to reach this goal.
The Exchange predicts that approximately 233,000 residents will be eligible for subsidies through the Exchange.
Connecticut Health Insurance Exchange - How Was it Formed?
On July 1, 2011, Governor Dan Malloy signed SB921 (Public Act 11-53) into law establishing the Connecticut Health Insurance Exchange. Legislation altering the composition of the Exchange Board passed in June 2012. The Connecticut Health Insurance Exchange was established as a quasi-public agency to satisfy requirements of the federal Affordable Care Act.
On December 7, 2012, Connecticut received conditional approval from the U.S. Department of Health and Human Services (HHS) to establish a state-based exchange. It is currently expected that the Connecticut Health Insurance Exchange will receive final approval from HHS.
Connecticut Health Insurance Exchange - How Will the Exchange Work with Insurance Brokers?
According to the Exchange website, insurance brokers and agents will be able to collect commissions for bringing individual clients to the exchange once it opens in October 2013.
Commissions will be paid out by insurance carriers and not the Exchange itself, essentially leaving in place the current business model for insurance agents.
According to an April 1, 2013 article by Hartford Business, " 'The brokerage community has said that we'll do whatever we can to assist clients to get the best insurance coverage possible," said John Calkins, a director of the Connecticut Benefit Brokers chapter of the National Association of Health Underwriters. "But there is still a lot to be learned about the exchange. Most agents need far more information.' "
As with many other state exchanges, brokers will be required to take training courses and be certified to sell insurance products offered through the Exchange.
More information is available on the role of brokers and agents can be found here: Access Health CT Advisory Committee for Brokers, Agents and Navigators
Connecticut Health Insurance Exchange - Access Health CT Website
The Access Health CT website will be the online marketplace for Connecticut residents. Here is a look at the website: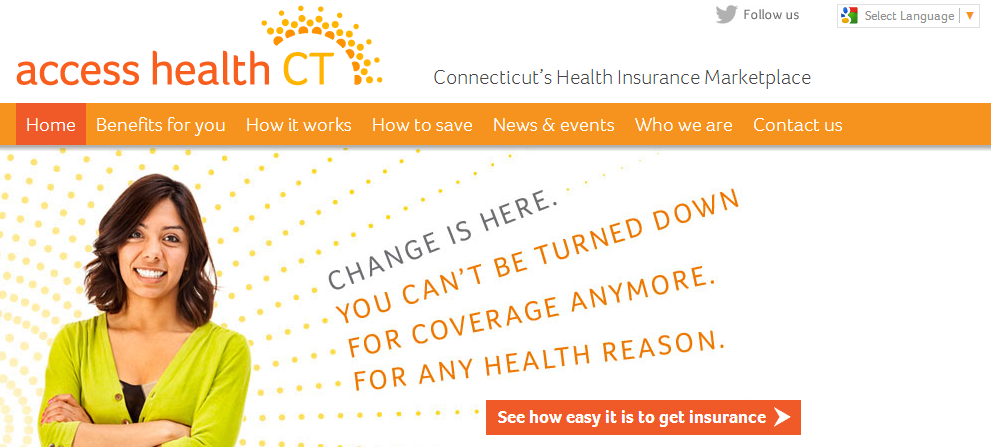 The Exchange website includes a savings calculator for individuals, families and small businesses to calculate federal tax subsidies or credits. Here is an example of the calculator for a family of 3: