Will health care reform erode employer-sponsored health insurance? Two recent studies say no, but changes are on the horizon. While businesses do plan on dropping (or making significant changes) to their employer-sponsored health insurance, the majority do not plan on dropping employee health benefits entirely.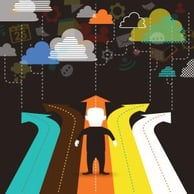 From "Defined Benefits" to "Defined Contribution" Health Benefits
According to Aon Hewitt's Annual Health Care Survey:
The vast majority (94%) of large and mid-sized U.S. companies say they will continue to offer health benefits to their employees in the next three to five years.

Of these, nearly two-thirds plan to move away from a traditional "defined benefit" approach to one that requires participants to take a more active role in their health care planning (such as "defined contribution").
Three Courses of Action
According to Aon Hewitt's analysis, with the new health care reform laws and changing health care options, employers* will have three courses of action:
"Stay the Course:" Keep group health insurance, and pay the inevitable annual renewal rates (while looking for options to keep costs down through employee cost sharing which is already very high nationally).

"Pay and Exit:" Drop group health insurance (and all employer-sponsored health benefits) and pay applicable tax penalties.

"Play Differently:" Choose a different course of action such as defined contribution. Employer sponsored health benefits through an allowance (a medical reimbursement account) and integrates benefits with the private and public exchanges.
* Applicable for employers with 50 or more employees who currently offer health benefits. Employers with less than 50 employees are not impacted by health care reform tax penalties.
What Will Employers Decide?
In their annual employer health benefits study, Tower Watson and National Business Group on Health found: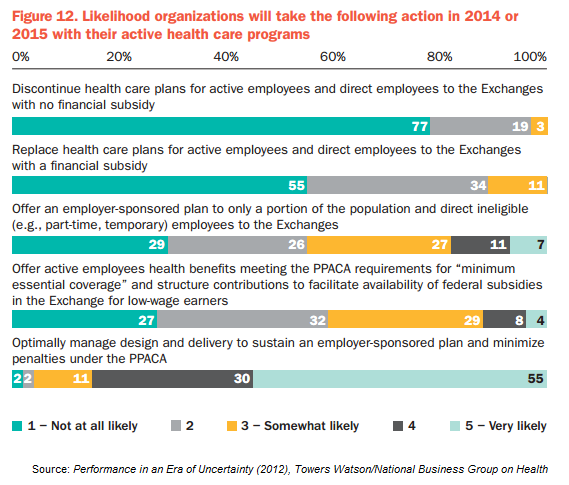 View the full Aon Hewitt 2012 Health Care survey here.
View the full Tower Watson/National Business Group on Health 2012 survey here.