At Help.ZaneBenefits.com, we host an HRA 105 Help & Support Knowledge Center that is available to the public. Earlier this week, we covered the top HRA 105 help articles for employees. Here are the top 8 HRA 105 help articles for employers. Please note that some of these help articles are specific to the ZaneHRA software platform.
Listed below is a helpful checklist as your company is setting up an HRA Plan.
Complete the setup process with the HRA administration company. During setup you will design your HRA benefit plan, and your online administrator account and plan documents will be created.

Download your company's HRA Plan Documents. Click here for instructions.
Click here to read the entire tutorial.
As the Plan Administrator, you will enroll your company's employees through the online administrator account.
To enroll employees you will need the following information:
Full legal name

Family status (single, married, etc.)

Date of birth

Phone number

Email

Mailing address

Dependents (optional): First and last name

HRA Class they will be enrolled in

HRA effective date
Click here to read the entire tutorial.
As a Plan Administrator, you can view basic details of a Participant's claim activity including their pending and approved claims.
From your online administrator account you can view claim activity in three main areas:
1. Homepage
On the homepage, all Participants are listed with the amount of reimbursements due to them. These "reimbursements due" reflect approved claims that have not been reimbursed. (Tip: If "Unpaid Claims" is greater than "Reimbursements Due" it simply means the claims they've submitted exceed the balance they have available to them at this time). A summary of pending claims, awaiting approval, are also shown in a box at the bottom of the homepage:
Click here to read the entire tutorial.
Before you record your first reimbursement batch, you will need to create a payroll line item called "HRA Reimbursement". The HRA Reimbursement line item will be classified as a tax-free business expense reimbursement. For more detailed instructions see How to set up HRA reimbursements on payroll.
Note: Because HRA reimbursements are tax-free line item additions to payroll, the reimbursement amounts are not subject to payroll taxes and do not increase an employee's taxable salary.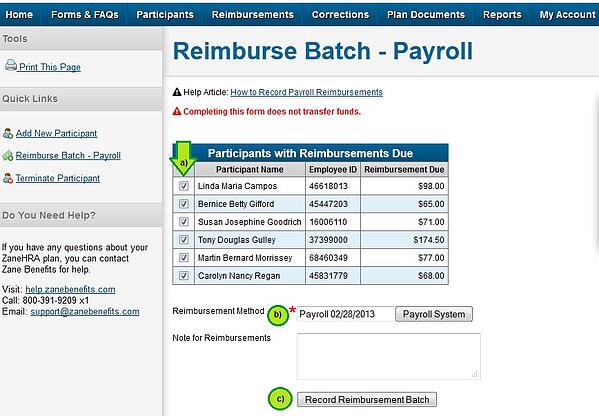 Most companies choose to record reimbursements as a batch via payroll, however another option is to reimburse an employee with an individual check (from your company directly to the Participant). The individual check method is typically used when you need to reimburse a participant as quickly as possible.
To record an individual check reimbursement log in to your online administrative account and follow these steps:
Click here to read the entire tutorial.
There are a couple of timing guidelines to be aware of when submitting claims.
These timing guidelines vary by company and plan. For specifics on your plan, see your Plan Documents Exhibit 1: Timing for Submitting Claims and Receiving Reimbursements.
Active Employees: Claims and documentation must be submitted within a certain time period after the date of service. Usually this is 180 days after the date of service, but it varies by company (see Exhibit 1). Additionally, claims and documentation for dates of service in a previous Plan Year must be submitted within 90 days of the close of the previous Plan Year.
Click here to read the entire tutorial.
HRA Plan Documents are available to view or download 24/7.
Plan Documents specify how your HRA is set up including the amount of your allowance, the dates of your Plan Year, what types of expenses will be reimbursed, what happens to your allowance at the end of the year, and other important information about your HRA. In other words, they are the legal documents that govern how your employer will reimburse you.
To view or download your HRA Plan Documents, follow these simple steps:
Click here to read the entire tutorial.
As a Plan Administrator, several reports are available through your online administrator account to help you manage your HRA.
From the main menu (blue bar), go to "Reports" and select the report you'd like to run. Available reports include:
Utilization Report

Claims Report by Nature of Expense

View Claims History

etc.
Click here to read the entire tutorial.