Editor's Note - This article was published in January 2013. Some of the information is out of date. For current information, see: FAQ - Can Employers Reimburse Employees' Individual Health Insurance in 2015?
Employers are allowed to use Health Reimbursement Arrangements (HRAs) to reimburse employees tax free for individual health insurance premiums, similar to the way employers contribute on a tax free basis to group premiums. This has been clarified with the release of numerous U.S. Treasury and State publications spelling out how employers can use HRAs for tax-free reimbursement of the premiums paid for personal health insurance policies. See "Insurance Premiums" in IRS Publication 502. Also see IRS Publication 969.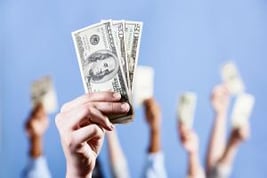 There are specific HIPAA and ERISA regulations governing the distribution of individual health insurance policies at the workplace--basically restricting employer involvement with the sale or administration of employee Individual health insurance policies. The HRA administration platform utilized should ensure employer compliance with these regulations.
Today, less than 50% of small employers offer any employee health benefits, and every year 2 million fewer employees will receive group coverage due to rising cost.
Overview of Health Reimbursement Arrangements
A Health Reimbursement Arrangement, or HRA, is a type of Medical Expense Reimbursement Plan or MERP that allows the employer to use tax-free dollars to reimburse designated employees for out-of-pocket medical expenses (including insurance premiums and deductibles). Eligible medical expenses are approved and reimbursed either by the employer or a third party administrator.
Interested in offering a health reimbursement arrangement? PeopleKeep can help. Check out how the PeopleKeep software works and evaluate whether HRAs and other personalized benefits are right for your business.
What Are The Advantages of HRAs?
Employees are not taxed on the value of their HRA coverage or on reimbursements they receive from the HRA.
An HRA is only funded as reimbursements are recorded.
HRAs may allow unused funds to be carried over to subsequent years.
HRAs are not subject to HSA rules thus allowing greater flexibility in the plan design of the high deductible health plan.
What Are Some Types of HRAs?
"Integrated" HRAs
An integrated HRA is an HRA that is integrated with a high deductible major medical plan, whereby the HRA is offered only to those who take the major medical coverage.
"Stand-alone" HRAs
A stand-alone HRA is an HRA that is not linked to a major medical plan and has separate eligibility rules.