Read on for three official statements from leading U.S. health insurers and associa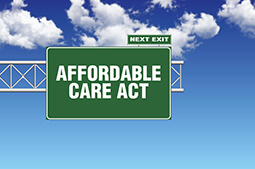 tions on the recent Supreme Court Ruling. I found it interesting that there are zero references to health insurance exchanges.
1. Blue Cross and Blue Shield Association Statement on Supreme Court Affordable Care Act Ruling
WASHINGTON – Blue Cross and Blue Shield Association (BCBSA) President and CEO Scott P. Serota issued the following statement regarding today's Supreme Court decision: "BCBSA has long been committed to ensuring everyone has high quality, affordable health care coverage. We will continue to implement the law while working with policymakers to fix provisions that will increase costs, such as the health insurance tax that will add hundreds of dollars to families' premiums each year. On behalf of our 100 million members, Blue companies will continue to lead efforts in their local communities – partnering with doctors, nurses, hospitals and others – to rein in costs, improve quality, help people stay well and better manage their care when they need it."
2. Aetna Statement on Supreme Court Affordable Care Act Ruling
HARTFORD, Conn. -- Aetna AET -0.61% released the following statement after today's Supreme Court ruling upholding the Affordable Care Act:
"Today's Supreme Court decision does not change our business strategy or commitment to system reforms that make quality care more affordable and accessible. We are prepared for the changes ahead and will continue to fully comply with the requirements of the Affordable Care Act. At the same time, we know that much more must be done to fix the problems that remain in our health care system. We believe there is still time -- if people can come together in a bipartisan way -- to improve quality and affordability. That security is what Americans want and need.
We are focused on delivering the next generation of health care through innovative solutions that improve quality and health outcomes, which ultimately makes care more affordable. We remain committed to working with policymakers and other stakeholders to make our health care system work better for everyone."
3. Cigna Statement on Supreme Court Affordable Care Act Ruling
The Supreme Court has done its important work, but more work remains to provide secure and affordable health care for every American.
Cigna is committed to promoting greater dialogue and collaboration among customers, physicians, and business and policy leaders to help provide peace of mind and better address the health needs of our customers. As part of our ongoing customer support efforts, Cigna has equipped its existing 365-by-24-by-7 call center hotline [1-800-Cigna-24] with a dedicated team to answer questions and respond to any concerns about the Supreme Court ruling; we'll also engage with customers on Facebook and Twitter, and offer detailed information on our website dedicated to explaining reform – www.InformedOnReform.com.
As the global population ages and faces challenges related to chronic health conditions, Cigna believes we can help lead the drive for long-term quality and cost improvements. Cigna will accomplish this by developing innovative customer rewards, industry-leading health and wellness initiatives, and Accountable Care Organization programs which pursue the goals of improved health outcomes, care affordability, physician engagement and patient satisfaction.
Cigna believes it is incumbent on all of us to find common purpose and to work for a health care system that improves patient outcomes, removes costly waste and ensures every American has quality, affordable health care and the opportunity to maintain continuous health care coverage. We will accomplish this by working with health care professionals, legislators and other stakeholders to find the best solutions that provide coverage for all.