New business methods and technology now allow employers to enroll employees in a single Defined Contribution Software platform from which employees access their: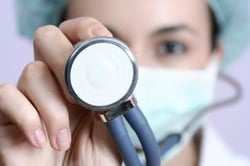 Defined contribution healthcare benefits;
HSA link to any financial institution; and
A Private Exchange for purchasing individual/family health insurance.
The Concept of "Pure" Defined Contribution
"Pure" defined contribution health benefits is a concept where the employer offers healthcare allowances that employees can use to be reimbursed for individual and family health insurance. The allowances are offered instead of a group health insurance plan. One way to set up the allowances is by using limited-purpose Section 105 Healthcare Reimbursement Plan.
"Pure" defined contribution is like a business-expense account for healthcare. And, the shift away from traditional group health insurance is often compared to the shift in the retirement industry from pensions (a defined benefit) to 401ks (a defined contribution).
How Did We Get Here?
The concept of medical and healthcare reimbursement started out as a way to supplement employer health benefit plans; often set up as a way to control costs and encourage healthcare consumerism. Medical reimbursement plans, such as HRAs and Section 105 Plans, were originally set up to cover incidental items not covered by traditional group health insurance plans. However, because of their flexibility and new technology designed to take advantage of this flexibility, defined contribution health benefits are becoming the foundation of employer health benefit plans nationwide.
For employers who cannot afford a traditional group health insurance plan, defined contribution health benefits enable millions of employees to purchase individual or family health insurance policies directly from an insurance company, and receive financial assistance from their employer.
Here are just a few ways "pure" defined contribution health benefits can deliver better and more cost-effective health benefits to employers and their employees today.
(1) Improved Retention
The greatest challenge for employers today - especially small and growing businesses - is retaining qualified employees. Defined contribution is extremely powerful for retention because employers are able to offer competitive health benefits when group health insurance is not fiscally possible. Additionally, employers can vary benefits by class of employee to create further incentives for employees to stay and grow.
(2) Boost Recruiting Success
The second greatest challenge facing employers today is recruiting quality employees, whether for salaried and hourly positions; part time or full time. Defined contribution health benefits are the ultimate employee recruiting tool because they allow employers to afford and offer much better health benefits than their competition.
(3) Different Employees, Different Benefits
Employers have always been allowed to allocate health benefits by using reasonable classifications with wages and retirement, giving different health benefits to employees based on job categories, geographical locations, etc.
But, before defined contribution software, employers lacked the technology and systems to offer health benefits packages tailored for each Class of Employee based on their recruiting and retention objectives. New defined contribution technology allows employers to set up a completely different benefits plan for each Class of Employee (e.g. call center staff, managers, executives) and electronically administer these different plans with electronic signatures, customized per-class plan documents, and the required ACA documentation such as the Summary of Benefits and Coverage (SBC).
(4) Improved Coverage for All Employees
Besides rising and unsustainable costs, every employee and employer has something they don't like about traditional health benefits. Many employers even go as far to say that traditional group health insurance is broken.
Defined contribution software eliminates much of the time and headaches of administering health benefits. Online tools, connected to the claims processing system, allow employers to monitor and control the cost of benefits in real-time. And, employers can quickly complete plan management functions online such as enrolling employees, changing benefit plan designs, and recording reimbursements - all without paperwork.
These compelling benefits make defined contribution a logical vehicle for small and medium businesses, nonprofits, and churches in 2014 and beyond. But as a defined contribution software provider, we might be a little biased. What do you think?