With the closing of the third open enrollment period for the Affordable Care Act (ACA), many researchers are taking a closer look at the people that are purchasing individual health insurance through the Marketplace. The Kaiser Family Foundation just finished its third round in a series of surveys intended to examine the experiences of those who are putting the ACA to good use. While many are satisfied with the ACA, the survey does reveal some room for improvement.
Majority of Respondents are Satisfied with Individual Health Insurance Coverage
The good news is that about two thirds of respondents are generally satisfied with their overall health coverage. According to the survey, 52 percent of participants described their individual health insurance plan as "good," while 14 percent felt that it was "excellent." In addition, at least 60 percent described being "somewhat satisfied" or "very satisfied" with their choice of hospitals, primary care physicians, and specialists, as well as copays.
Generally, Satisfaction is Down from 2015
The bad news is that these numbers are trending downward. Since the first open enrollment period, overall satisfaction with deductibles and premiums is declining, leading people to feel that they are not exactly getting much bang for their buck.
Unsurprisingly, participants enrolled in high­deductible plans gave lower satisfaction ratings than those with lower deductibles. However, ACA users are not alone in their frustration of the rising cost of health care. People enrolled in Group Health Insurance plans are feeling the pain as well.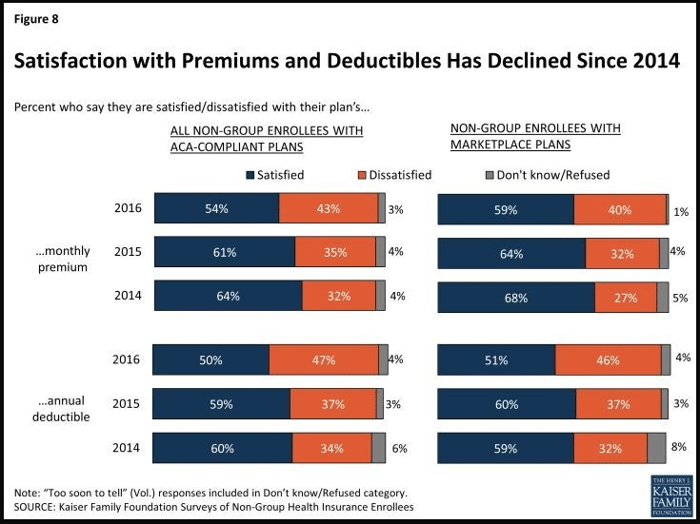 Source - KFF
Participants Find it Easy to Shop
After getting off to a rough start, ACA shoppers are finding it easier to set up an account and compare plans and coverage. Participants that experienced difficulty while setting up an account dropped from 34 percent in 2014 to 25 percent in 2016. Surely, this is one number that is welcome to continue falling!
Conclusion
Although the majority of ACA users are feeling "satisfied" with their overall health coverage, there is still plenty of room for improvement, specifically in the area of deductibles and premiums. Though it may have taken some research and hard work, most people found that they were able to find a coverage plan that worked for their families.
Have you searched for an individual health insurance plan through healthcare.gov? Leave your experience in the comments section below!