A picture of the 2015 Individual Health Insurance Exchanges is beginning to emerge. A handful of states have publicly released their initial rate filings for 2015, and a new report by PricewaterhouseCoopers (PwC) provides a look at rate changes in those states.
2015 Individual Health Insurance Rate Filings
According to the report, premium increases across more than a dozen states vary widely, ranging from a low of -25% in Arizona to a high of 46.3% in Indiana.
The average rate increase across states reporting data is 6.85%, while the average monthly premium (without subsidies) is around $360/month. In 2014, the average monthly premium (without subsidies) is $346/month (source).
PcW's analysis was based on the public state rate filings currently available. Some states are only reporting partial 2015 premium information to date, such as which insurers are intending to participate in 2015, or percentage of rate change without actual premium data.
Here's a look at their analysis: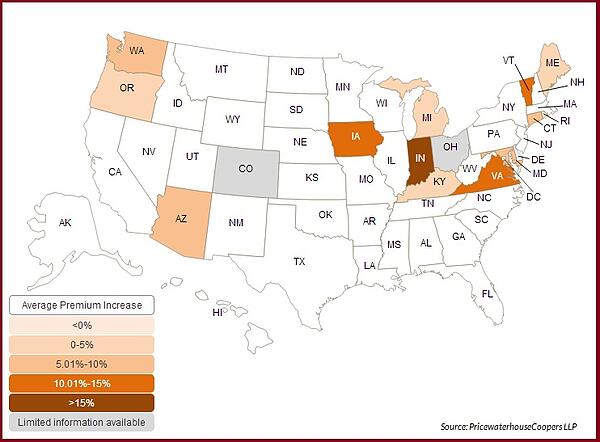 Source: PwC
What do you think of the 2015 preliminary Exchange premium rate filings?