Defined contribution healthcare provides small and medium sized businesses a way to offer employees competitive health benefits without the cost or complication of group health insurance.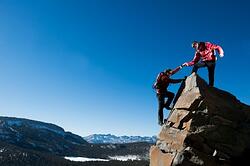 "Pure" defined contribution healthcare is a strategy where employers offer allowances for health insurance, rather than a specific group health insurance plan. One way employers set up the allowances is with a limited purpose Section 105 Healthcare Reimbursement Plan (HRP).
Here are eight (8) ways defined contribution healthcare helps small businesses get out of the health insurance business and focus their valuable resources on growing their business - all while providing valuable health benefit that help recruit and retain key employees.
#1: Defined Contribution Healthcare Provides Employees Plan Choice
With "pure" defined contribution healthcare, the small business provides employees with a fixed monthly allowance. Employees may purchase any personal health insurance policy, and are reimbursed by their plan for their premium (up to the amount of their allowance). Employees may select any personal health insurance policy that fits their specific health needs including the carrier and the type of plan (high-deductible, low-deductible, HSA-compatible, etc). Many small businesses make available a health insurance broker to help employees understand plan options.
Compared to an employer-sponsored plan: With a traditional employer-sponsored plan, the employer chooses and administers a specific insurance plan (or plans). Small businesses, however, have less bargaining power in the small-group market. Of businesses with less than 200 workers, 86% that offer an employer-sponsored plan only offer one (1) plan.
#2: Defined Contribution Healthcare Reduces Red Tape
Offering defined contribution healthcare reduces the time the small business spends on health benefits administration and paperwork. Once the plan is set up and employees are enrolled online, health benefits becomes a payroll function -- meaning the small business uses defined contribution software to add reimbursements to payroll.
For the average small business, defined contribution administration takes 5 minutes a month and there are no lengthy annual renewals. Less administrative time means more time available to run and grow the business.
Compared to an employer-sponsored plan: Small businesses select their employees' insurance plans and play a larger role in plan management.
#3: Defined Contribution Healthcare Offers Financial Predictability
Offering defined contribution healthcare aids financial predictability for small businesses. With defined contribution healthcare, the small business decides how much they will contribute to employees' health care expenses. There are no minimum or maximum amounts a business can contribute, so if a business wants to contribute any amount to employees' health care costs, they can afford a defined contribution plan.
This high level of cost controls and flexibility leads to financial predictability, and allows the business to grow faster.
Compared to an employer-sponsored plan: While monthly premium rates are predictable, most businesses face an annual premium increase each year. According to a recent study by Aon Hewitt, the average employer-sponsored health premiums increased 6.3% in 2013. Steady 5-10% annual premium increases add up fast for any business.
#4: Defined Contribution Healthcare Free Up Cash Flow
Defined contribution healthcare is a notional arrangement and funds do not accumulate in a separate account. Rather, the business reimburses employees only after their employees incur eligible premium expenses. Because the business does not need to pre-fund the allowances, and only reimburses once employees show proof of eligible premium expenses, defined contribution frees up cash flow for the business.
This is valuable for any growing business and makes offering the benefit feasible for many start-ups, small non-profits, and small businesses.
Compared to an employer-sponsored plan: Premiums are usually paid monthly or quarterly. The key difference is that with defined contribution healthcare, the business reimburses employees directly on payroll, and only for expenses they've incurred (up to the amount they have available).
#5: Defined Contribution Healthcare Boosts Employee Morale
Provided in the right way (and using the right defined contribution provider), offering defined contribution allowances increases employee morale because 1) the small business is offering formal health benefits, 2) employees have the choice to customize their health benefits, 3) employees will often spend less on premiums compared to their required contribution to a tradition employer-sponsored plan, and 4) eligible employees and their families have access to the health insurance tax credits via their state's health insurance exchange.
There are two key factors when offering defined contribution healthcare: 1) Choose the right defined contribution software provider who will help educate employees and offer an easy-to-use online system, and 2) Coordinate with an insurance broker or agent who can help employees select and purchase a personal insurance policy.
Compared to an employer-sponsored plan: Most employees are only familiar with a traditional employer-sponsored plan and because of this, they may perceive a group health plan as a better benefit ("this is what we've always received"). And until recently, for some sick employees coverage under an employer-sponsored plan was their best (if not only) option for coverage. This "moral obligation" to provide a guaranteed-issue group health insurance coverage no longer exists because under the Affordable Care Act, all employees have access to personal health insurance (regardless of health conditions).
#6: Defined Contribution Healthcare Gets Small Businesses Out of the Health Insurance Business
Small businesses are typically not health insurance experts, nor do small businesses want to spend valuable time gaining expertise.
With limited resources and staff, the time spent comparing policies, dealing with questions/complaints, and managing the plan falls on the business owner. This is valuable time that could be spent growing the business.
By offering defined contribution healthcare, the small business can get out of the health insurance business and allow employees to make smart health insurance decisions for themselves.
Compared to an employer-sponsored plan: Time is required working with a broker to select the plan/s, manage questions or issues, and going through the renewal process each year.
#7: Defined Contribution Healthcare Lowers Health Benefits Costs
A central idea behind defined contribution healthcare is that it lowers the cost for the same or better coverage. Cost savings are seen because:
The small business sets and controls the amount of defined contribution allowances provided to employees.

The individual policies employees purchase cost, on average, 20% less than group health insurance policies for the same coverage. In other words, the business's money goes farther.

At the end of the plan year, or when an employee terminates employment, unused allowance funds stay with the small business.
These benefits of defined contribution healthcare contribute to cost-savings and control of financial risk. Read more on the cost of defined contribution.
Compared to an employer-sponsored plan: The cost of group health insurance is defined by a few variables such as the type of plan/s selected, the carrier, and either the health and age of employees or by community-rating. Employers are required to pay a minimum percentage of the premium which means if the premium is increased at renewal time, so is their minimum contribution amount.
#8: Defined Contribution Healthcare Allows Flexible Plan Design
With defined contribution healthcare there is no minimum participation requirements, and small businesses can offer different levels of benefits to different employees based on bona-fide job criteria such as job description, location, family status, etc.
This plan design flexibility can help a business recruit and retain key employees and contain costs. For example, a business could offer $250/month for managers and $100/month for entry-level staff. Or, a business could start offering health benefits to only key directors and add a benefit for other employee classes as revenue grows.
Compared to an employer-sponsored plan: 50%-75% of employees must participate in the plan and there is less flexibility to offer different benefit levels to different employees.