Small and medium sized businesses across America are canceling traditional group health plans and transitioning to "pure" defined contribution healthcare. Many more businesses have never offered health insurance to begin with because of high costs, and are using defined contribution to offer affordable health benefits for the first time.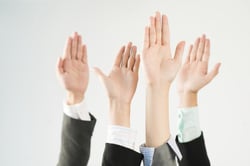 In fact, many experts say 2014 could be the 'tipping year' for defined contribution. So, what do companies need to know to plan for defined contribution healthcare?
This article covers eight questions companies should ask themselves as they plan for defined contribution. These questions help companies assess their health benefits goals and build the foundation for transitioning to defined contribution healthcare.
This article is a snippet a from our new eBook "Planning for the Transition to Defined Contribution Healthcare" (free download here).
8 Questions to Ask Yourself as You Plan for Defined Contribution
Tip: Work though these questions with the health benefits decision-makers at your company. These questions will help you prepare for an introductory ("discovery") call with your defined contribution provider.
#1) What is Our Anticipated Start Date?
What date (or month) will you start offering health benefits?

#2) What is Our Projected Health Benefits Budget (Monthly or Annually)?
What is your company's budget for health benefits? If you've offered health benefits in the past, what were your past annual budgets?

#3) Which Employees Will we Offer the Benefit To?
You can offer the benefit to all employees, or by class of employee. Classes need to be based on bona-fide job criteria such as job description, hours worked weekly, location, etc. You can offer different monthly amounts by class of employee.

#4) How Many Employees Will be Eligible?
Based on the employee classes determined above, how many employees would be eligible for the benefit?

#5) Will we be Getting Individual Health Insurance Quote Information? (Optional)
As you are allocating monthly allowances, some companies find it helpful to research individual health insurance quotes. You can do this through a health insurance broker or your state's Health Insurance Marketplace (e.g.: HealthCare.gov). Other companies base allowances solely on the budget they have available for health benefits.

#6) What is our Federal Tax Filing Status for the Company, and will the Owner Participate?
How the company files federal taxes may impact owner eligibility for participation. How does the company file taxes federally, and would you like the owner to participate?

#7) Who Will Be our Company's Plan Administrator?
This is the person who will administer the program (enroll new employees, record reimbursements, etc.). Depending on the company this could be the HR Manager, Office Manager, Payroll Coordinator, or Owner.

#8) What is our Current Payroll Method and Provider?
How do you process your payroll? Do you use an external vendor or software system?
See related articles on planning for defined contribution healthcare:
What questions do you have as you plan for defined contribution healthcare? Leave a comment or question below.