Enrollment season is upon us and HR professionals, benefits managers, and small business owners everywhere are tasked with helping employees understand their health benefits. While it's a busy time of year, don't skip over this opportunity to help employees understand their health benefits.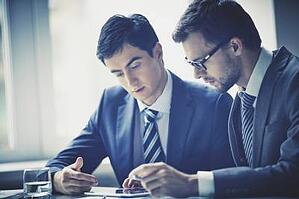 That's because communication about the health benefits you offer is vital to employees understanding the nuts and bolts of the benefits, and understanding the value.
In fact, a recent survey by Unum found that "even if employees don't have a particularly good benefits package, those who say they received quality education about the benefits they are offered are far more likely to consider their employer a very good place to work." On the flip side, when employees are given the information they need to make informed decisions about their benefits, they tend to rate their benefits education higher.
So, how can you help employees understand health benefits and increase the ROI of your company's investment? Here are five tips to help you get started.
Tip #1: Explain Both the "What" and the "Why" of Your Health Benefit Offerings
This tip may seem like a no-brainer, but many employees are uneducated or confused about their company-provided health benefits. According to the survey, it's not uncommon for this to happen. Only 33 percent of employees rank their company's benefit education as excellent or very good.
So as you educate employees, explain both what the benefits are as well as why the company has chosen to offer health benefits in this way. Educating employees on the "why" is especially important for companies changing their offerings due to the Affordable Care Act, and/or adopting an alternative approach to health benefits (such as individual health insurance reimbursement).
Tip #2: Communicate with Employees Now, and Throughout the Year
Many companies only talk about benefits during the few weeks around open enrollment, but this is a mistake. Plan to communicate with employees heavily in the months and weeks leading up to open enrollment, and also frequently through the year.
As you educate employees about their health benefits throughout the year, include small tips and advice. This will increase their health benefits IQ (making them smarter healthcare consumers) and reminds them of the great benefit your company offers.
See related: Stressed About Open Enrollment? 4 Tips to Help You Stay Sane
Tip #3: Provide Resources, and Communicate in a Variety of Ways
The resources you provide to employees will have a big impact on how well they understand benefits, yet don't assume that a one-size-fits-all approach will do the trick.
Everyone learns differently, so provide resources and communications in different ways such as through videos, pamphlets, emails, company lunches, etc. Think outside of the box; your unique ideas may be the best way to help employees understand.
Tip #4: Reinforce the Value of the Health Benefits
Don't be afraid to promote your health benefits. As you communicate with employees reinforce the value of your health benefits and the overall value of working for your organization. Regardless of the type of health benefits you are providing to employees, you likely care about the health of your employees and value offering employees health benefits. Use your communication about health benefits as an opportunity to reinforce this value to employees.
Tip #5: Get Feedback
Lastly, and perhaps most importantly, is to get feedback from your employees. You invest in health benefits to recruit and retain your valued employees - is it working?
Ask employees if they feel informed based on what you have provided them, if they enjoy their benefits, or suggestions for future education. You can also create quizzes or games to gauge employee education and make it fun. Ultimately, this will instill trust in your employees if they see that you value their feedback, and will lead to better retention.
What are your tips for helping employees understand benefits? Leave a comment, question, or idea below!