As the Affordable Care Act (ACA) comes into effect January 1, many Americans are purchasing individual health insurance for the first time. Americans most impacted by the ACA are employees who are uninsured or employees who purchase their own health insurance coverage. Here are five tips for employees on selecting a health insurance company, and getting the most value from individual coverage. What are your tips?
#1) Work With a Health Insurance Broker
A licensed health insurance broker can be very helpful as you learn about health insurance companies and plan options. They can help you determine if you are available for discounts (health insurance tax credits) through the health insurance marketplaces, and help you enroll in a plan. It should not cost you more to enroll in coverage through a health insurance broker. If your employer is offering a defined contribution healthcare allowance to help with your premium, your employer may be able to refer you to a health insurance broker as well.
#2) Find the Lowest Cost for Your Health Care Needs
Even though the ACA requires plans to cover preventive visits for free, out-of-pocket costs like deductibles, co-pays, and co-insurance can add up over the course of the year. When comparing similar plans across health insurance companies, compare the monthly premium cost and what you will pay when you receive care.
With the ACA, all plans offered will be categorized by a level of coverage, called the metallic tiers of coverage. However, these are general guidelines and not all plans offered within each category are identical. It may be helpful to go through the type of medical visits and expenses you had last year and understand how much you would pay out of pocket under each plan.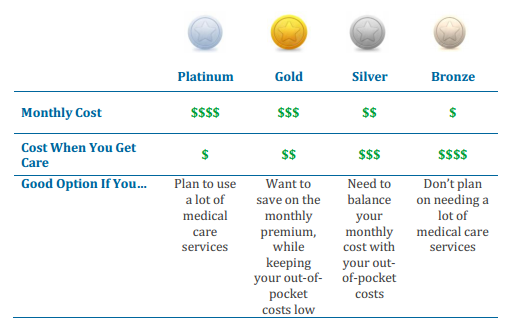 #3) Choose the Right Plan Type
Different insurance companies offer different types of health plans. Meaning, they are structured in different ways and offer different benefits. For example, HMOs match you with a primary care provider who is then responsible for any referrals you need, EPOs don't require referrals but do require that you choose providers from within a set network, and PPOs offer more options by covering out-of-network care. See: Four Common Types of Health Insurance Plans.
#4) Check the List of In-Network Providers (Is Your Doctor On It?)
If you have a physician or medical center you prefer to go to, check to make sure the new insurance plan will consider them "in-network". How do you check? Ask your doctor's office if they accept a certain health insurance company or plan, or check with the insurance company (for example, healthcare.gov provides lists of in-network providers for all plans).
#5) How's the Customer Service?
Once you've narrowed it down to a few health insurance companies, assess whether their website and customer service are easy to use. Do you want 24-hour assistance, online bill-pay, or other services? Consider how much this is worth to you. If you rarely access support, customer service probably won't be of great importance. But if you expect to require regular assistance with understanding bills or issuing appeals, it might be worth extra money each month for a company that has excellent customer service.
What are your tips for selecting a health insurance company and an individual health insurance plan? Add to this list by leaving a comment below.