With open enrollment just a few weeks away, many consumers will be be re-evaluating their coverage, or even buying health insurance for the first time. A major appeal of buying health insurance through the Marketplace is access to the premium tax credits. Although many Americans are eligible to receive financial assistance via the premium tax credits, individuals with income above 400 percent of the federal poverty line are likely not eligible for tax credits. So, what can consumers who are not eligible for the premium tax credits do to make sure they are getting the best deal on health insurance?
Here are 5 tips for consumers buying individual health insurance, specifically for those not eligible for premium tax credits.
1. Don't Limit Yourself to the Marketplace
Although the Marketplace is a great way to obtain access to guaranteed-issue health insurance, it is not the only place to shop. Aside from the Marketplace, consumers can either shopthrough a health insurance broker, a private website, or buy directly from the insurance carrier. The health insurance Marketplace provides access to premium tax credits, but if you're not eligible for the discount it's worth it to look around -- you may have more options.
2. Consider More Than Just the Premium Price
When considering how much you want to pay for health insurance, take into consideration the monthly premium, but also the types of health care expenses you may incur over the next year. In the past, it was hard to understand the coverage levels of plans. That's no longer the case. As of 2014, individual health insurance plans are categorized in four standardized levels of coverage, called "metallic tiers of coverage." These categories help you better compare plans "apples to apples."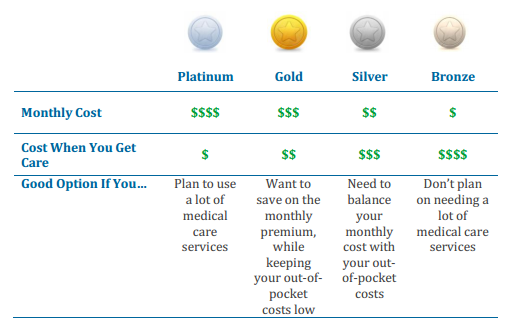 Along with the premium, it is important to consider other costs associated with the plan, such as deductibles, co-insurance, co-pays, and out-of-pocket maximums. You'll also want to check the plans for which doctors and hospitals are covered, as receiving health care from out-of-network providers can be significantly more expensive.
In order to save money, it is important to select the right metallic tier for your health and financial needs. If you are unsure of what plan to select, it is always a good idea to talk to an insurance broker to help you with your selection.

If you anticipate using a lot of medical services, it is more ideal to select a platinum or gold plan. Although the premiums higher, you will pay less out-of-pocket when it comes time to receive medical care. If you do not anticipate having a lot of healthcare needs, selecting a silver or bronze plan is more ideal to save money. Although there will be higher out-of-pocket costs when you do need medical services, you will pay a significantly lower premium.
See this blog post: ACA Tip: How to Save Money on Individual Health Insurance
3. Contact an Insurance Agent or Broker
Feeling overwhelmed? You are not alone. While the individual health insurance Marketplaces have made it easier to compare health insurance options, many consumers are not comfortable selecting a plan on their own.
As the Marketplace enters the second year of operation, more major health insurance carriers are entering the Marketplace or expanding their presence in the Marketplaces. For consumers, this news means more individual health plans to choose from and more competition in many of the state Marketplaces. While this increased competition is great for health insurance rates, the plethora of options can be overwhelming for consumers.
For this reason, we always recommend working with a licensed health insurance agent or broker who can help you understand plans. In fact, studies show that people who purchase health insurance with the assistance of a broker pay less for coverage and are happier with their plan.
4. Enroll on Time
The main purpose of the Affordable Care Act (ACA) was to make sure that as many people as possible are covered under health insurance. The more insured Americans, the larger the risk pool of insured consumers.

Under the ACA, most Americans are required to have health insurance, or pay a tax penalty if they don't. This rule is called the "Individual Mandate" or "Individual Shared Responsibility Fee" and started in 2014. Coverage can include job-based health insurance, individual health insurance, or insurance through a government program such as Medicaid or Medicare.

The penalty for not having "minimum essential coverage" is called the "Individual Shared Responsibility Fee." This fee is either a flat fee or a percentage of household income, whichever is greater. The penalty increases over the first three years. This year, the fee will increase from a $95 maximum fee for an individual to a $325 maximum fee for an individual. The maximum fee for a family will increase from $285 to a whopping $975. Consumers who want to have coverage starting January 1, 2015 need to sign up for coverage by December 15, 2014.