Just like bigger companies, small businesses face HR challenges that come along with hiring the right a team, creating and maintaining a company culture, and complying with ever-changing laws and regulations.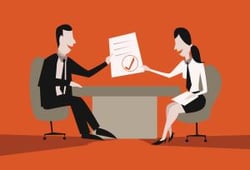 Here are five quick tips to keep in mind when getting your HR up and running.
1. Know, Understand, and Follow HR Regulations and Law
From the very first day an employee is hired, there are laws and regulations covering payroll, employee discrimination and harassment, and termination... just to name a few. There are several online resources to help small businesses know, understand, and follow these HR regulations and laws. To get started, see: 8 Things You Need to Do When Hiring Your First Employee.
2. Keep HR Files Organized and Confidential
It's important to keep employee files organized and confidential. Ideally there should be two files for each employee: a personnel file and a confidential file.
Items to include in the personnel file are things like the employee's resume and original job application, salary records, transfers, job evaluations, and any disciplinary actions. Items to include in the confidential file are medical records, leave requests, I-9 forms, payroll records, and reference checks. Read more: Small Business HR Basics.
3. Make Payroll on Time
It may sound like a given to stay up to date and timely with payroll, but many small businesses struggle to make payroll on time because of disorganization. Stay organized with payroll systems and make sure to hand out paychecks on a consistent basis, at the same time each period. Timesheets can help keep track of vacations and sick time, and there are several online management programs that help small businesses stay organized, and be prepared for tax-time.
4. Create an Employee Manual
An employee manual explains your company's policies and procedures, and communicates your expectations to employees. It also helps protect your business in the event of a dispute.
5. Lay the Foundation for Being an "Employer of Choice"
Being an "Employer of Choice" means that candidates are eager to work for you, that people look up to your employees, that you receive unsolicited resumes, and that your most talented employees stay with your business throughout their careers. It's a coveted status. It signals your company's brand is top-notch. And, when your company brand is high, it's much less expensive to recruit and retain key employees.
Any employer - whether a small business, a start-up, or a nonprofit - can become an Employer of Choice. It's not just reserved for the big dogs. In fact, where small businesses may lack resources, they make up by having a unique, tight-knit, and "I can make a difference here" culture.
Ways small businesses can build a unique culture is to focus on who you are recruiting and hiring, offering the right benefits, offering challenging and interesting work with opportunity for advancement, and recognizing employees.
See: How Small Businesses Can Become a Coveted "Employer of Choice".
What are your small business HR tips or questions? Leave a comment.