Now that the Affordable Care Act (ACA) is implemented, renewal discussion with small groups sound different than in the past. Small business decision makers (owners, CEO's, CFO's, and HR Execs) are asking more questions about cost, different options for health benefits, and how to get the most bang for their buck. Sound familiar? Here are our four tips on talking with small business decision makers at renewal time.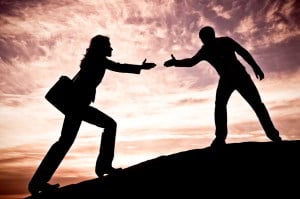 1. Plan Changes are Normal, Universal
Many small groups may hope to renew their plan "as is". They are happy with the coverage and deductibles, and can swallow the cost. The first tip is to help small businesses understand that renewing "as is" is very rare, and that nearly all small groups need to make plan changes.
That's because unless your client was one of the few who grandfathered their plan(s), most small groups must select a new ACA-compliant plan in 2014.
This is a challenge for small businesses - change can be hard. And it's also a challenge for brokers - you now have the challenge of communicating differences such as new deductibles and copays, provider networks, formulary changes, and new rate structures.
Talk about these changes up front, and have solutions ready to help them solve their health benefits goals. This includes being prepared to talk about ways to control and reduce overall plan costs.
2. Take a Step Back to Identify Goals and Challenges
With several changes to the small group market, and the renewal increases many small groups are facing, many brokers are bringing alternative solutions to the small group market. But first, take a step back and listen to what their goals and challenges are.
To help a client assess the right solution -- one that meets their budget and health benefit goals -- discuss why they offer health benefits, and what really is the best solution?
3. Evaluate the New Tax Credits Available to the Business and Employees (and New Options)
This tip may be controversial to some brokers, but small groups are asking "How can I take advantage of the new tax credits?"
Explore if the small group is eligible for the small business health care tax credit (available for plans purchased through the SHOP).
And, help the company evaluate their employee census for individual premium tax credit eligibility. Employees, their families, and your client might all be better off canceling their group coverage and sending employees to the exchanges.
This can be hard to hear. However, this is not a lost-cause for you, their broker. You can retain their business by offering a defined contribution solution (a way for the employer to contribute to employees' individual health insurance expenses), and work directly with employees on individual and voluntary policy sales.
See: How to Help a Company Cancel Group Health Coverage in 2014 (...and Retain their Business)
4. Start Communicating Early
Our last tip is to start communicating with your clients early, in preparation for their renewal date. With the new changes (and opportunities) with the ACA, it's our experience that clients are thinking ahead.
In your communication, provide clarity and as many details as possible when reviewing plan changes or alternatives. Allow plenty of time for discussions with employers and encourage the decision maker to listen and understand the facts prior to the making of a final decision. Likewise, ask question after question to understand their goals and concerns about the renewal period.
These steps will help increase your value as consultants -- don't just be your clients' broker, be their benefits and ACA expert.
Read more tips on building relationships with small businesses.
What are your tips for talking with small businesses this renewal season? Help us add to our list with a comment below.