Open enrollment 2015 is approaching quickly. Many uninsured Americans will be purchasing their own health insurance for the first time. In addition, many consumers who enrolled last year will be looking to switch plans. Some consumers will research their plan options while other will select blindly based upon sticker price.
Whether you're selecting a health insurance policy for the first time, or are simply shopping around to see if you can get a better deal this year, here are three vital questions to ask before you purchase a health insurance policy.
1. Can I Keep My Same Doctor?
Each health insurance plan has a network of providers, including hospitals, laboratories, doctors offices, imaging centers, and pharmacies. Every health insurance provider has contracts with these medical providers agreeing to provide services to covered plan members at a designated cost.
If you have a preferred doctor, it is vital to ensure that your doctor is in the plan's network before purchasing the policy. If your preferred doctor is not in your plan's network, the insurance company may not cover the medical bill, or may require you to pay a higher share of the cost.
When you are shopping for health insurance, review the plan's provider directory before you purchase the plan. If you would like assistance, a health insurance agent or broker is a great resource to help guide you through the process of selecting a health insurance policy.
2. What Does the Policy Cover?
Due to the Affordable Care Act (ACA), all individual health insurance policies are required to cover ten essential health benefits.
1. Emergency Services
2. Hospitalization
3. Laboratory tests
4. Maternity and newborn care
5. Mental health and substance-abuse treatment
6. Outpatient care
7. Pediatric services (including dental and vision care)
8. Prescription drugs
9. Preventative services and management of chronic diseases
10. Rehabilitation services
3. How Much Does the Policy Cost?
When you're evaluating the cost of a health insurance policy, there are two main factors to consider:
1. Your premium amount (the amount you will pay to the insurance company for your plan, usually monthly)
2. The "out-of-pocket" costs (the amount you will pay when you receive medical care)
In the past, it was hard to understand the coverage levels of plans. That's no longer the case. As of 2014, individual health insurance plans are categorized in four standardized levels of coverage, called "metallic tiers of coverage." These categories help you better compare plans "apples to apples."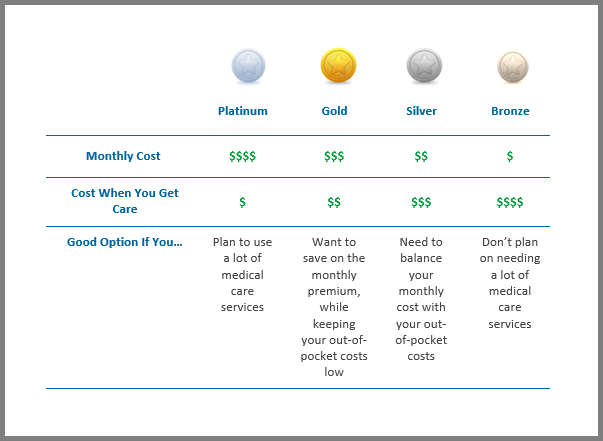 Source: Affordable Care Act 101
In order to save money, it is important to select the right metallic tier for your health and financial needs. If you are unsure of what plan to select, it is always a good idea to talk to an insurance broker to help you with your selection.
If you anticipate using a lot of medical services, it is more ideal to select a platinum or gold plan. Although the premiums higher, you will pay less out-of-pocket when it comes time to receive medical care. If you do not anticipate having a lot of healthcare needs, selecting a silver or bronze plan is more ideal to save money. Although there will be higher out-of-pocket costs when you do need medical services, you will pay a significantly lower premium.
Out-of-Pocket Costs
Before selecting a health insurance policy, be sure to check and see what the out-of-pocket costs will be. These are the part of your medical bills that you are responsible for paying when you receive healthcare. Here are the four health insurance terms you should understand before purchasing a policy.
Deductible: the amount paid for covered care before the insurer begins to pay. For example, a family or individual may have to pay $500 out-of-pocket for covered services before the insurance company pays; this would be a $500 deductible.
Co-payment: a set dollar amount paid to the health care provider for a covered service. For example, there may be a $30 co-payment for a doctor's visit.
Co-insurance: the percentage of allowed charges for covered services you are required to pay. For example, if an insurer is responsible for 80 percent of charges for a service, you would be responsible for the remaining 20 percent.
Out-of-Pocket Maximum: an out-of-pocket maximum is the maximum amount of money you will pay for covered services during a benefit period (for example, over the course of a year). The out-of-pocket maximum never includes your premium, balance-billed charges, or services your health insurance plan doesn't cover. The out-of-pocket maximum will vary from plan to plan but can include copayments, deductibles, and co-insurance. Once you have paid the full amount toward your out-of-pocket maximum, your insurance will pay 100% of the allowed amount for your covered healthcare expenses. The new health law says that in 2014, the out-of-pocket limit for plans sold to individuals and small businesses cannot be more than $6,350 for an individual or $12,700 for a family (not including your monthly premium). Some plans may have lower out-of-pocket limits than that.