It seems that not a day goes by without Obamacare making headlines. As the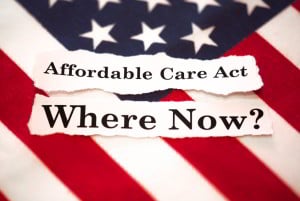 new Republican administration gets settled, it's an understatement to say that the future of the Affordable Care Act (ACA) is uncertain.
But just how many people take advantage of Obamacare? How many Americans will be affected by an ACA repeal or overhaul?
An interactive map put together by the Kaiser Family Foundation provides useful insights into how many Americans use individual health insurance coverage from the Marketplace, as well as which side of the political aisle their congressional leaders fall on—something that could very well determine if the ACA survives, whether in whole or in part, in the future.
ACA Enrollment Numbers: Key Takeaways
Source: KFF.org
11.5 million people were enrolled in Obamacare nationally as of December 24, 2016.
The 10 congressional districts with the highest number of ACA enrollees are all located in Florida.
17 congressional districts (spread among Florida, North Carolina, Georgia and Montana) have more than 50,000 enrollees.
6.3 million Obamacare enrollees live in Republican districts, whereas 5.2 million live in Democratic districts.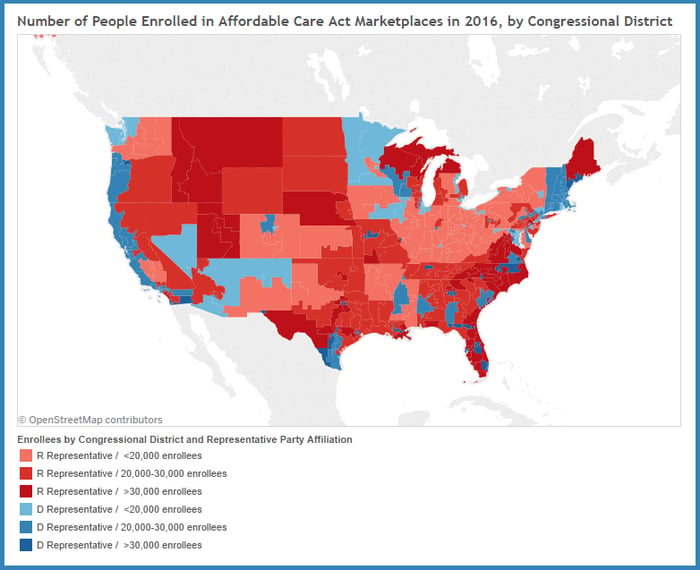 HHS Says Demand for Healthcare Is Higher Than Ever
According to the Department of Health and Human Services (HHS), Obamacare enrollment increased by 286,000 between December 2015 and December 2016.
Former HHS Secretary Sylvia Burwell, whose term ended January 20, 2017, estimated at the close of 2016 that ACA enrollment would reach 13.8 million in 2017—an increase of 2.3 million people.
Conclusion
With the current Congress vowing to either repeal or replace the ACA, the future of individual health insurance coverage under the ACA is unclear. What is clear, however, is that affordable individual health insurance is important to the millions of Americans who have signed up for plans in the Marketplace.
What do you think the future holds for the Affordable Care Act? Let us know in the comments below.