While the Great Recession seems like a thing of the past, small business owners are still recovering. And while optimism is growing, owners say top small business challenges for 2015 are financial security, recruiting quality employees, offering the benefits employees want, and creating a competitive edge.
These trends were identified through a 2015 survey by Bank of America, which surveyed approximately 1,000 small businesses (defined as employing 2-99 employees) in March 2015.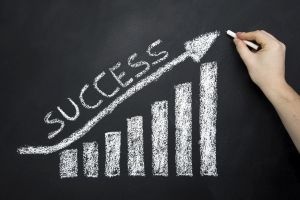 To summarize, here are 20 compelling small business owner stats on economic outlook, finances, recruiting, benefits, employee recognition, and government policy.
Small Business Outlook - Optimism, Recovery, and Concerns
1. Small business owners' confidence in the national economy is growing - from 40 percent in 2014 to 48 percent in 2015.
2. Millennials (61 percent) are still more positive about the direction of the national economy than Baby Boomers (30 percent) and Gen-Xers (58 percent).
3. Two out of three small business owners (63 percent) plan to grow their business in the next five years.
4. Recovery from the Great Recession lingers. Only 21 percent of small business owners report a complete recovery and 41 percent say they have somewhat recovered.

Chart source - Bank of America
5. The top four concerns of small business owners include: healthcare costs (70 percent), effectiveness of U.S. government leaders (69 percent), consumer spending (59 percent), and the strength of the U.S. dollar (59 percent).
Related - 3 Big Challenges for Small Businesses
How Small Business Owners Make Ends Meet
6. When asked what they would do if forced to make ends meet in a challenging financial situation, 67 percent of small business owners said they would delay or reduce their own compensation.
7. The majority of small business owners work long hours; 55 percent work 50+ hours weekly with 10 percent working 70+ hours weekly.
8. To make ends meet, most small business owners take on personal financial responsibility. For example, 35 percent use personal credit cards, 32 percent delayed compensation, and 29 percent took out a personal loan. Only 11 percent said they laid off employees or delayed employee compensation.

Chart Source - Bank of America
Small Businesses Struggle to Recruit, Hire, and Retain Qualified Employees
9. Fewer than half of small businesses (46 percent) plan on hiring in 2015, down from 52 percent in 2014.
10. Why is it hard for small businesses to recruit candidates? Small business owners point to a lack of qualified candidates (59 percent), trouble meeting salary expectations (45 percent), competing with larger brands (29 percent), and not offering the right benefits (26 percent).
Related - What Are Employee Benefits and Should You Offer Them in 2015?
11. According to the survey, 94 percent of small businesses have employee appreciation programs. Popular activities include team outings (46 percent), spot bonuses (44 percent), recognition (35 percent), extra time off (34 percent), and an off-cycle raise or promotion (25 percent).
12. Regarding benefits and perks, small business owners are most likely to offer flexible hours (56 percent), holidays off (48 percent), and paid vacation (46 percent).
13. Only a third (37 percent) of small business owners say they offer healthcare benefits and only 18 percent say they offer paid maternity leave.
Related - A Savvy Way to Afford Employee Health Benefits

Chart Source - Bank of America
How Small Businesses Meet Customer & Community Needs
14. More than half (57 percent) of small business owners believe strong customer relationships are a primary driver of repeat business.
15. To keep up with customer demands, small business owners are adopting technology (62 percent), expanding product or service offerings that cater to a younger client base (41 percent), becoming more environmentally friendly (32 percent), and changing locations (16 percent).
16. The vast majority (84 percent) of small business owners say they use social media for business growth.
17. When determining where to locate their businesses, the majority of owners (68 percent) favor local communities where they already live and work. Other factors determining location include potential for future growth (67 percent), and customer base (66 percent).
Small Businesses Owners Split on the Government
18. Views toward government differ greatly by generation, with only 14 percent of Baby Boomer small business owners feeling appreciated by policymakers, compared with 40 percent of Gen-Xers and 39 percent of Millennials.
19. Top political concerns for small business owners are required healthcare (39 percent), mandated sick leave for employees (29 percent), and an increased minimum wage (26 percent).
20. Small business owners say they would value new policies that expand tax breaks for automatically enrolling employees into retirement savings accounts (36 percent) and incentive businesses to keep jobs in the U.S. (31 percent).
Read the full Bank of America report here.
Conclusion
Small businesses make up a significant portion of our U.S. economy. As these 20 findings suggest, small business owners are optimistic but cautious about the economy. They struggle to recruit and retain quality employees, are customer-focused, and are split on how the government can help American small businesses.
As a small business owner, do you agree with these sentiments? What are your biggest concerns or challenges this year?Join the discussion in the comments.