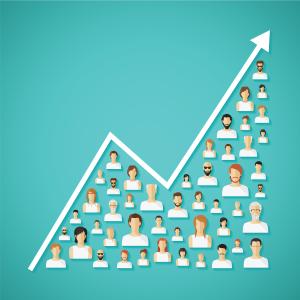 With open enrollment season upon us, small business owners all over the nation are looking to start, renew, or change health benefit options for the coming year. To help your team understand the trends in small business health insurance in 2017, here are ten quick facts.
These trends are from the Kaiser Family Foundation (KFF) 2016 Annual Health Benefits Survey, released September 14, 2016.
1. The percentage of small businesses offering health insurance is trending downward.
In 1999, 63 percent of small businesses (3-49 employees) offered health insurance in comparison with 53 percent in 2016.
A similar change can be detected among small businesses employing 50-99 people, although the numbers aren't quite as dramatic (96 percent in 1999, 89 percent in 2016).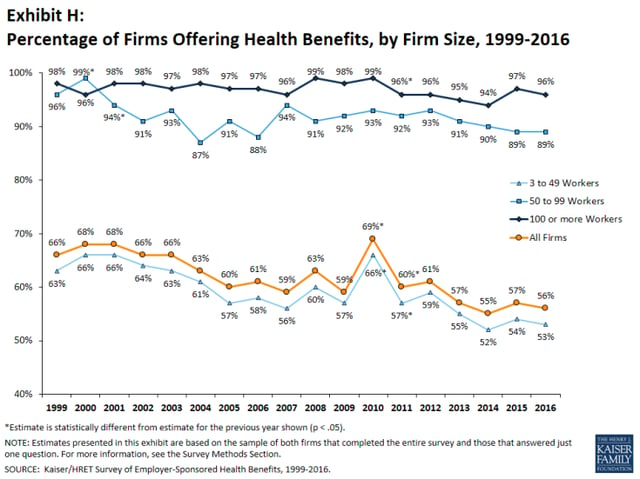 2. 73 percent of small businesses cover one-quarter (or less) of their employees' health insurance premiums.
This number decreases to 33 percent when discussing family plans. This could be due in part to the structure of health insurance premiums. Many small businesses cover the same dollar amount per employee, regardless of their plan choice.
3. The percentage of covered workers enrolled in a plan with a deductible of $1,000 or more is increasing.
In small businesses, the number is up to 65 percent in 2016. For contrast, only 16 percent of individual worker were enrolled in plans with such high deductibles in 2006.
Related: Health Insurance Cost Continues to Rise for Employees, New Report Finds
4. The percentage of workers covered by their employer's health benefits is decreasing.
According the the report, 55 percent of workers were covered by their employer's health benefits in 1999, as opposed to 44 percent in 2016.
5. Nearly all small businesses extend coverage to spouses of employees.
However, 13 percent of small businesses deny spousal coverage if the spouse's employer offers health benefits.
6. 32 percent of small businesses allow their employees to complete a health risk assessment.
According to the KFF, "a health risk assessment includes questions about a person's medical history, health status, and lifestyle." In addition, 20 percent of small businesses provide the opportunity to undergo biometric screening, defined as "a health examination that measures an employee's risk factors such as body weight, cholesterol, blood pressure, stress, and nutrition."
7. 46 percent of small firms offer wellness programs to employees.
Smoking cessation, weight management, and behavioral or lifestyle coaching are some of the most common offerings.
8. 32 percent of small businesses offer health coverage to same-sex unmarried partners.
Large firms reported at 49 percent.
9. 26 percent of small businesses offer health coverage to opposite-sex unmarried partners.
Large firms reported at 42 percent.
10. Premiums for family plans is lower among small businesses compared to large firms in 2016.
The average cost for family coverage plans in small businesses is $17,546, whereas large firms reported an average of $18,395.
Conclusion
As the cost of small business health insurance continues to rise, employers are forced to make tough decisions about coverage, contributions, and deductibles. One solution being widely adopted by small businesses is "defined contribution" where you reimburse health insurance premiums instead of purchase a group health insurance policy. With this shift in contribution strategy, employers are consumerizing employee benefits - creating a win for small businesses and employees, alike.
What questions do you have about small business health insurance? Let us know in the comments below!