New eBook Briefs Small Business Owners on the Pending HRA Legislation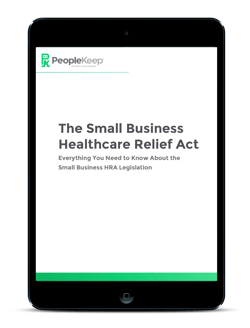 Zane Benefits, the leader in consumerized employee benefits for small businesses, announced today the publication of a new eBook, "The Small Business Healthcare Relief Act - Everything You Need to Know About the Small Business HRA Legislation."
The eBook provides small business owners a briefing on the pending legislation aiming to restore Health Reimbursement Arrangements (HRAs) for small employers.
According to Zane Benefits, only half of all U.S. small businesses offer traditional health insurance coverage today, largely because of cost. As a result, small businesses are at a significant disadvantage for recruiting and retaining top talent.
For decades, small businesses have used reimbursement-based plans, such as Health Reimbursement Arrangements (HRAs) and Health Insurance Reimbursement Plans, to offer a meaningful contribution to employees' healthcare costs, as a more affordable alternative to offering a small group health insurance plan.
In 2014, however, options for health insurance reimbursement were limited because of new health reform regulations placed on group health plans, including HRAs.
The Small Business Healthcare Relief Act (SBHRA) would provide relief on multiple fronts by restoring small business employers' ability to assist employees with out-of-pocket health insurance and out-of-pocket medical costs through a Health Reimbursement Arrangement (HRA).
The new guide helps small business owners and their advisers understand the pending legislation, learn how the Small Business HRA would work, and evaluate options for health insurance reimbursement.
The 9-page eBook is available for free download at the ZaneBenefits.com website and covers the following topics:

A briefing of the pending legislation

How the Small Business HRA would work

Options for health insurance reimbursement today

Eligibility for and availability of the Small Business HRA
About Zane Benefits, Inc.
Zane Benefits was founded in 2006 with a mission to consumerize employee benefits for small business. We have a vision for the world where employee benefits are actually employee benefits rather than employer benefits. "Consumerize" is the word we use to describe that vision. When small businesses offer Zane Benefits instead of traditional benefits, they save time and money by empowering employees with tax-free dollars. Using our online software platform (PeopleKeep®), small businesses help employees purchase their own benefits with real dollar contributions.
Zane Benefits' software has been featured on the front-page of The Wall Street Journal, USA Today, and The New York Times. Learn more at www.ZaneBenefits.com.