Zane Benefits announces a newly published whitepaper for small business employers titled Consumerization: An Employee Benefits Advantage for Small Business. This trend-based analysis concludes that consumers are ready for employee benefits to be reoriented to their needs and expectations.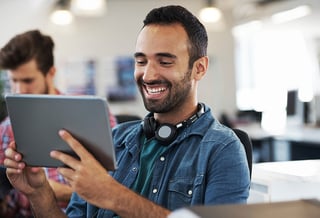 Traditional benefits—such as health insurance or retirement savings plans—are typically designed as a one-size-fits-all package. One or two offerings are selected by the employer to cover the spectrum of needs represented by the group of employees. As a result, the one-size-fits-all package usually ends up being less beneficial for most employees in the group. By becoming less flexible on one hand, and less affordable on the other, employee benefits have disconnected from their original purpose. And that's where consumerization of employee benefits comes in.
Consumerization is happening in all industries of the American and global economy. Take Apple, for example. Prior to the era of Apple's iPhone, Blackberry dominated the market. Blackberry devices were functional, widely adopted by enterprise users, and brought mobile internet to the masses. When Apple introduced the iPhone in 2007, Blackberry stock hit an all-time high on a market cap of $120 billion. But the market was in for a seismic shift. iPhones gave consumers something Blackberry did not—the ability to customize your device with thousands of apps and settings (and even color). Yes, the Blackberry was functional, but the iPhone reoriented the product to focus on the end-user. The result? A radical market shift to consumer-driven technology for mobile devices.
A new whitepaper, published by Zane Benefits, concludes that the employee benefits market is staged for a shift similar to what iPhone has done to the mobile device market—and small businesses stand to become the primary beneficiary of the shift.
According to a recent Metlife employee survey, over three quarters (78%) of employees want a greater variety of benefits to choose from and 80% of employees would value benefits customized to individual circumstances and age.
For America's small business employers, the consumerization of employee benefits creates a game-changing advantage. Unlike traditional benefits that attempt to provide a universal solution for the group of employees, a consumer-directed approach enables the small business to offer true benefits, customized to the unique needs of each employee—all at a cost determined by the company.
The full whitepaper is available as a free, online download: Consumerization: An Employee Benefits Advantage for Small Business
About Zane Benefits, Inc.
Zane Benefits was founded in 2006 with a mission to consumerize employee benefits for small business.We have a vision fo the world where employee benefits are actually employee benefits rather than employer benefits. "Consumerize" is the word we use to describe that vision. When small businesses offer Zane Benefits instead of traditional benefits, they save time and money by empowering employees with tax-free dollars. Using our online software platform (PeopleKeep®), small businesses help employees purchase their own benefits with real dollar contributions.