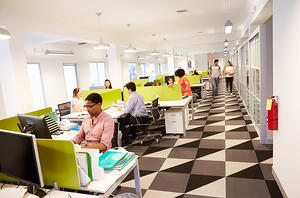 We all work hard for our paychecks. However, a salary isn't the only job aspect that makes great employees happy and want to stay with their organization. Smart companies are learning that offering great employee perks is an easy and less expensive way recruit and retain their top candidates. It aids them in becoming an employer of choice.
While huge corporations can afford to offer in-house massages and catered lunches, perks don't always have to be extravagant. Small businesses and startups can afford to offer great employee perks too. Here is our list of the ultimate low-cost employee perks.
1. Casual Dress Code
Having a casual dress code is easy to implement and doesn't cost the company anything to offer. While it may not seem like much, being able to wear jeans rather than a business suit can be seen as a major perk to some employees.
A more casual dress code may help employees to feel more relaxed and better focus on their tasks. In addition, a relaxed dress code can help to ease the financial impact on employees. Not having to work about the cost of cleaning or replacing business suits can be a big relief for employees.
2. Dog Friendly Office
The ability to bring man's best friend to work is another employee perk that is easy to implement and free. For startups and growing businesses that keep long hours, the workday can get stressful.
Having some pooches around the office can help to raise office morale, reduce stress, and foster relationships between employees. Going on a dog-walk is a great bonding activity for employees. In addition, when employees can bring in their best friend to work, there is no need to rush home at the end of the day to feed or let their dogs out.
3. Work From Home Days
While this may not work in customer-facing roles or companies, letting employees skip their daily commute is a great perk to increase employee satisfaction. This can be a great reward or incentive that doesn't cost the company anything.
4. Flexible Hours
While not every company has the ability to let their employees work from home, giving employees more flexible hours is another great way to boost morale at no cost to the company. In addition, employees who are morning people or night owls can work during the hours when they are most productive.
Low-Cost Perks Can Pay Off
Although traditional benefits are still an important part of employee retention and recruitment, there are some non-traditional workplace perks that are appealing to employees. These employee perks can be focused on creating a culture of health and wellness, supporting the family dynamic, and fostering a flexible work environment. Offering these perks can show that a company clearly values the benefits of a great company culture.
Small and growing companies could easily implement these inexpensive techniques for employee satisfaction. These examples show that it doesn't always take a lot of money to make employees happy. These perks are very simple and would be easy for any company, large or small to implement, no matter what their budget is.
Download our employee retention eBook to learn how to keep your most valued employees without breaking your budget.