As the individual health insurance Marketplaces prepare to open on November 1 for the 2016 enrollment period, all eyes are on the plans, providers, and premium costs.
Recently, the Kaiser Family Foundation (KFF) released premium data for twelve major cities, where complete data is available. While not comprehensive national data, this report provides a preview of individual health plan premium rates for 2016.
Here's a summary of what to expect in 2016.
Average Health Plan Increasing 3.1%
The KFF report analyzed premium rates for the major city in Connecticut, DC, Maine, Maryland, Michigan, New Mexico, New York, Oregon, Vermont, Virginia, and Washington.
In these twelve cities, premiums for the second-lowest-cost silver plan in the Marketplace, before accounting for any premium tax credits, are increasing by an average of 3.1 percent from 2015 to 2016. By contrast the average change in the benchmark silver plan in these twelve cities was -1.3 percent from 2014 to 2015.
Premium Changes Vary Significantly by Region
According to the report, premium changes vary widely by region. For example, consumers in Portland, Oregon may see increases as large as 23 percent while consumers in Seattle, Washington may see premiums decrease by 10 percent.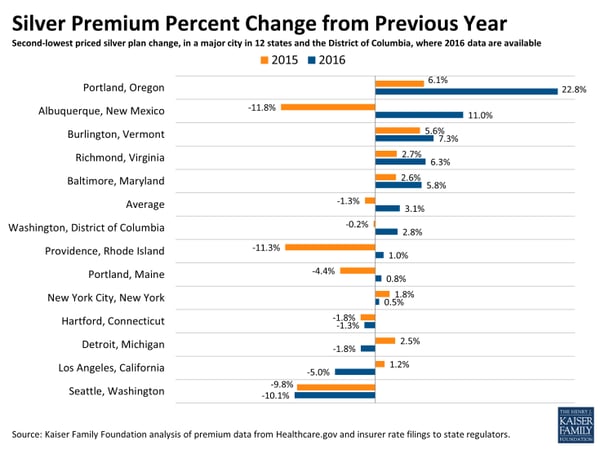 With Premium Tax Credits, Average Premium Increasing 1%
When discussing individual health plan premium rates, it is important to consider the premium tax credits, which limit how much an eligible consumer will pay out-of-pocket for the premium.
Once premium tax credits are factored in, the KFF report found an average premium increase of only 1 percent from 2015 to 2016, in the twelve cities analyzed. For most of the cities, as shown in the chart below, the increase was negligible.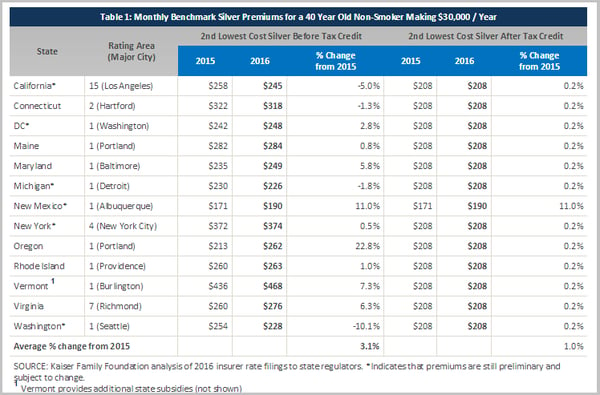 Conclusion
As we round the corner into the 2016 open enrollment season, the KFF report suggests we can expect only modest increases to individual health plans offered in the Marketplaces. Additionally, premium rate changes will depend largely on region and on eligibility for premium tax credits.
What questions do you have about the 2016 open enrollment season or about individual health plan premiums? Leave a comment below.