If you're like many small businesses right now, you're taking hiring slow, keeping a close eye on the economic forecast, and looking for ways to recruit the best candidates on a shoe string budget.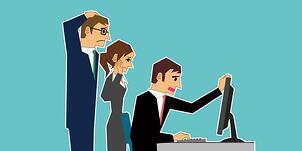 For example, a recent survey found 49% of owners hired or tried to hire in the last three months yet 41% reported few or no qualified applicants for open positions.
Social media is not just for your marketing team. And social media recruiting is not just for the big, tech savvy companies. Social media is an inexpensive recruiting tool small businesses can leverage.
As more job seekers use social media and mobile devices to look for work, small businesses should use social media as a low-cost way to recruit, source, and interview candidates.
Here are five simple tips for small businesses to get started with social media recruiting.
1. Share Job Openings and More
Use social media such as Twitter, Facebook, LinkedIn, and Google+ to share links to positions posted on your company career site.
And, ask your employees to do the same. Word of mouth and employee referrals are the number one source of top candidates for small businesses. Expand this idea through social media. Ask staff to share about new positions, but also about other news and events. This gives potential candidates get a feel for a company's culture.
2. Use Video
Small businesses are increasingly using free online video tools such as Skype and Google Hangouts to conduct video interviews with candidates. This is helpful for candidates who live out of the region, saving your small business the expense of flying the candidate out for an initial interview.
But you can use video interviews for local candidates, too. Use video interviews to screen candidates early-on in the process. Then, only bring top candidates into the office for a more lengthy interview.
3. Use Social Media to Learn About Candidates
Social media is a two-way street. Candidates are learning about your small business online. Use social media to learn about them, too. View candidate's social media pages to learn about their work experience, connections, and online etiquette. If you have candidates to fill out an application, ask them to provide their LinkedIn profile or Twitter account.
4. Freshen Up Your Social Media Sites
Do your social media pages need a face-lift? Review your social media sites regularly to make sure the branding (text, graphics, etc.) match your website and your company messaging. Make sure all of your social media pages link back to your website.
5. Stay Connected With Past Candidates
Social media is an opportunity to stay connected with past or passive candidates. Use your social media sites to not only attract a pool of prospects, but to keep in touch with candidates before positions re-open up.
What other tips does your small business have for recruiting with social media and mobile technology?
See related articles on small business recruiting and retention: