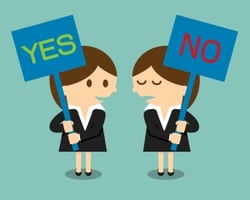 It's a common small business challenge. You want to contribute to employees' healthcare, but traditional employer health insurance coverage is not in the cards. At the same time, employees are mandated under Obamacare to purchase coverage and the business would like to chip in, if they could.
Can employers help employees with their Obamacare coverage? Is reimbursement for individual health insurance still allowed?
The answer is yes, as long as you follow the new Obamacare rules. Let's take a look.
Is Reimbursement for Individual Health Insurance is Still Allowed?
Yes!
Under current rules, regulations, and tax code, reimbursement for individual health insurance (including "Obamacare policies") is still allowed as long as applicable rules and regulations are followed. And as you have probably heard, failure to set up a compliant reimbursement plan will lead to costly fees.
Related: Health Insurance Reimbursement - How to Avoid Costly Penalties
So, what is the "right way" and the "wrong way" to reimburse employees for health insurance premiums?
The "Right Way" - A Formal, Compliant Reimbursement Arrangement
To reimburse employees for individual health insurance, one option is to set up a Section 105 Medical Reimbursement Plan.
To comply with the new Obamacare rules the Section 105 Plan is designed a certain way; it is structured to only reimburse:
health insurance premiums up to a monthly allowance, and

basic preventive care services as required by the reforms.
This type of reimbursement plan is sometimes called a Healthcare Reimbursement Plan or HRP.
Another option is to provide a stipend ("bonuses") to employees to use on health insurance, although both the employer and employee will pay taxes and there's no guarantee employees will use the money on health insurance.
What is the "Wrong Way?"
The following do not meet the requirements of the new reforms and employers may face penalties for these types of arrangements:
Paying directly for employees' health insurance premiums to the insurance company

Reimbursing employees directly, without the use of a compliant Section 105 health plan

Reimbursing employees through a non-compliant plan such as a stand-alone HRA
Related: [Chart] Are We Reimbursing Employees' Health Insurance Correctly?
Conclusion
Is reimbursement for health insurance still allowed? Yes, an employer can provide reimbursement for health insurance by using a Section 105 Plan that complies with the ACA Market Reforms, as well as other federal regulations.
What questions do you have about reimbursing employees' health insurance? Leave a comment below.