With the Affordable Care Act (ACA) enrollment deadline approaching in March, the administration is pushing outreach efforts. Is the approaching deadline and media push impacting the public's opinion of the health reform law? Is the public aware of the new health insurance marketplaces? Do they want the law repealed?
The February Kaiser Health Tracking Poll provides insights on the public's feelings about the ACA. The poll was conducted February 11-14, 2014. Here's a summary of the key trends.
47% of Public Have an Unfavorable Opinion of the ACA
The overall opinion of the ACA remains about the same as it has been since Kaiser's November poll, with just under half the public viewing the law unfavorably (47% in February, 50% in January) and just over a third having a favorable view (35% in February, 34% in January). Among those who are currently uninsured, unfavorable views of the law continue to outnumber favorable ones by a large margin as they did in January.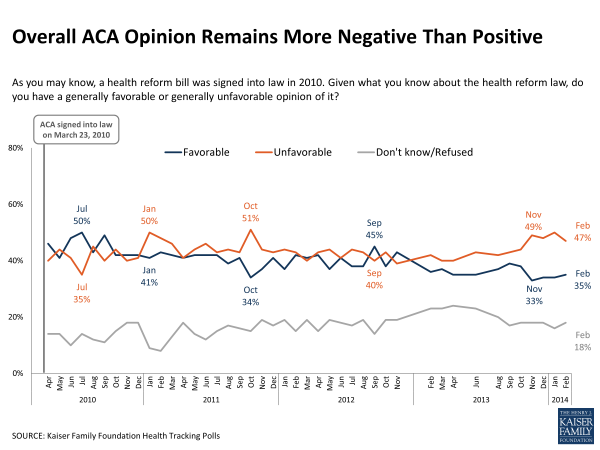 48% Want to Keep the Law in Place, and Work to Improve It
More Americans than not still want Congress to keep the law in place and work to improve it rather than repeal it. When asked "What would you like to see Congress do when it comes to the health care law?" 48% said keep the law in place and improve it, 8% said to keep the law as is, 12% said to repeal the law and replace it, and 19% said to repeal the law and do not replace it.
60% of Uninsured Know a Little or Nothing about the Health Insurance Marketplaces
Among the uninsured, the study found a lack of awareness about key aspects of the law. Just about a quarter (24%) are aware of the March 31st deadline to sign up for coverage, and 63% say they know little or nothing about the new public health insurance marketplaces.
37% Prefer a Cheaper Plan with a Narrower Network
According to the study, just over half of Americans (51%) would prefer to pay more for a health plan that covers a broad network of doctors and hospitals, while 37% would prefer a cheaper plan offering a narrower network.
However, for those who currently lack health coverage or who purchase coverage on the individual health insurance market, 54% said they preferred a cheaper, narrower network, while just 35% opted for a more expensive plan with a broader provider network.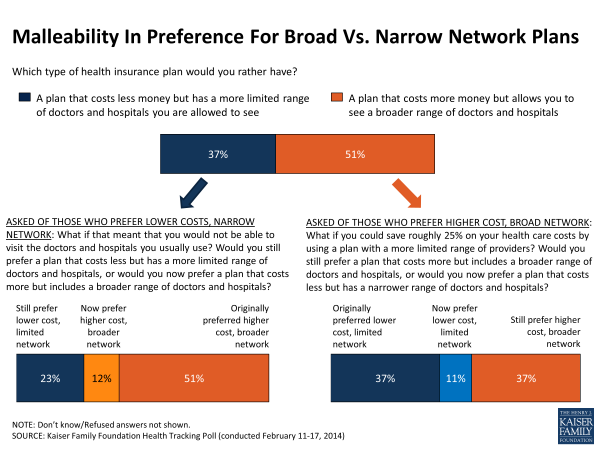 Source: KFF February 2014 Tracking Poll.