Customers aren't just something you need - you absolutely have to have them in order to stay in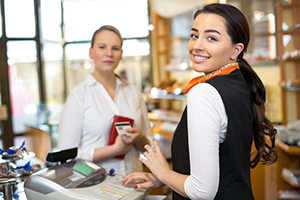 business. So, it's probably important to put them at the top of your priority list, right? If you don't know who your customer is, you need to sit down and map this one out. Knowing who you're selling your product or service to is the very first thing you should do if you want a successful small business. In this article, we'll go over four effective life hacks that will help you get to know your customer and improve your business.
Get to Know Your Customer the "Old-School" Way - Ask Them
Some would argue that talking face to face with customers is an "old school" way of doing things, however, it's pretty difficult to argue this point when you get good, effective feedback from the mouth of the customer.
So, what's the best way to know your customer? Ask them. Simple as that. No matter the type of small business you own, your customers have wants and needs. The key is to find what those are and give them to the customer. And providing your customers with exactly what they want will keep them coming back time and time again.
How Can You Give Customers What They Want?
Simple Surveys
It sounds simple because it is! Really, all you have to do is ask one or two questions to each customers as they pay for their product or service. Make the questions easy to understand, and non-intrusive.
By asking simple questions, you're showing your customers that you care about their opinion, but you also respect their time. If you have long survey, many customers will not want to answer questions, or may feel you're intruding.
Website Feedback Section
Add a section to your website where your customers can give their feedback (either by name or anonymously). This way, customers can give their most honest opinion of your product or service without feeling pressured or restricted to give honest feedback.
Make sure the feedback section has a few simple questions, as well as an area where they can type up their own response. Having a free space to write give your customers the chance to explain their wants and needs in their own words.
Contests for Best Ideas
You can have a lot of fun with this one. How? Advertise to your customers that you're looking for the best ideas to incorporate into your business. Make a grand prize for the best idea and of course, recognition.
As you incorporate contests for your customers to help you grow your business, you'll see they feel emotionally connected to your business and have a reason to keep returning. Think of it this way, if you were the person who won an idea contest at a local business, wouldn't you tell everyone about it? Two words: free advertising. Plus, you're developing lasting relationships with your customers - all while getting valuable feedback.
Quick Conversations
As a small business owner, you have an advantage some larger companies do not have - you can speak face-to-face with many customers. The advantage? You get to know your customers directly and can find out what they expect.
Additionally, many customers feel honored when a business owner asks for their personal opinion. Never forget the value of walking up to or calling your customers to ask for their opinion. It creates a bond and trust to keep them coming back and spreading the word about your great service.
Conclusion
As you get to know your customers and put them high on your priority list, along with implementing different feedback strategies, you'll begin to see that your customers' needs are right in front of you nose.
How do you get to know your customers? Comment below and let us know!
Related articles:
5 Productivity Hacks for You and Your Small Business
4 Recruiting Life Hacks Your Small Business Can't Live Without
5 Awesome Design Practices to Increase Workplace Productivity