Let's face it, starting a small business isn't for everyone. In fact, there's a reason not everyone owns their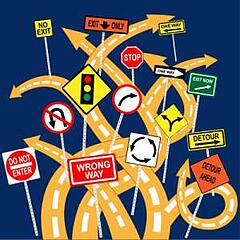 own small business - it's a lot of hard work. However, it's some of the most rewarding work you'll ever find. And, if you have the passion and ambition to become one of over 500,000 individuals who start their own business in the U.S. every month (source), you're going to need a good business plan to get started.
Knowing this, we've put together a list of what you need to include in your business plan and have provided tools to help you get started on your first business plan.
Business Plan = Success
Think of Christopher Columbus. Do you think he stocked up his ship, got funding from the monarch, and rounded up a crew without some sort of plan? No. He certainly had a plan. And though he set out to find a westward route to Asia by sea and found the Americas, the important thing is that he started with a plan.
At times, your business plan will not unfold exactly how you envisioned. However, because you had structure since the beginning, your odds of success are much greater. Just as Christopher Columbus had a plan, think of your business plan as your map to a new world - and if you end up in a different spot than you anticipated, it's okay, so long as you make it successful.
Related: 16 Things You Never Knew You Needed to Start a Small Business
What to Include in Your Business Plan
Alright, now that you know why a business plan is important, let's get into what to include in your business plan.
But first, a good general rule of thumb to follow: the more you include in your business plan, the better. Why? A business plan is meant to be your small business's handbook in any situation. When situations arise and you're not 100 percent sure how to handle them, your business plan is meant to be your guide. Though it will not list out step-by-step how to handle a situation, it will remind you of core values, goals, and your small business's purpose to give direction. As such, make sure your business plan thoroughly discusses the following 11 topics:
Company mission and vision

Company culture and plan to achieve it

Organizational structure (hierarchy of positions and roles)

Financing projections and goals (best and worst case scenarios)

Company goals (long and short term for departments and employees)

Product details

HR (rules, regulations, recruiting, retention)

Common challenges (list as many as you can and how to overcome them)

Federal compliance (Health insurance laws, city and state ordinances to follow)

Marketing (social media, content, advertising, target customer, competitive edge, pricing, distribution)

Exit strategy (if your small business doesn't succeed, what will you do?)
Related: 12 Tips on Creating the Perfect Company Culture for Your Small Biz
Tools to Start Writing a Business Plan
Once you've started to envision how you want your small business plan to pan out, you're ready to put it all on paper so to speak.
Whether you choose to use an online free-to-use site like enloop.com to start your business plan, a Microsoft Word template, or write your plan from scratch, the important thing is that you have a plan.
Conclusion
A business plan is an extremely important step in your journey towards becoming a small business owner. It allows you to plan for the various challenges that will come, success, and provides a good reminder of goals, visions, and your mission.
What questions do you have about starting a business plan for your small business idea? Comment below.