Nearly half of US health insurance brokers (45%) say they're considering exiting the health insurance business altogether, with the majority (51%) saying they're only slightly or not at all confident about the future of their business and their industry.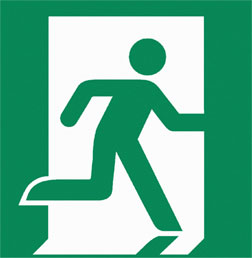 The 2013 Aflac WorkForces Report for Brokers reflects a common feeling among insurance brokers that they're taking the brunt of changes in America's health care system.
It's no surprise. Health insurance brokers' previous "bread and butter," group health insurance, is undergoing a drastic shift with new structural changes brought on by health care reform. Additionally, costs for employer-sponsored group health insurance are at an all-time high for employers and employees.
Health insurance brokers feel the closing in of the market, and it's a threat to their current business model. And in general, they are not happy with health care reform. For example, in a recent look at brokers' views on health care reform, 72% said health care reform would make the country worse off, and 65% said it would make their business worse off.
These recent studies around brokers exiting the industry, and the future of health insurance brokers, has created a whirlwind of discussion on social media, especially LinkedIn.
So, studies aside... what are insurance brokers saying about the future of the insurance business? Here are some trends I found in LinkedIn group discussions around these studies.
Disclaimer: The views represented in the LinkedIn comments below do not necessarily reflect the views of Zane Benefits, its staff, or its affiliate partners.
Broker Goals Are Not Aligned with Business Goals

Businesses Need Brokers for Education and Consultation

View the discussion on LinkedIn.
Or, Do They?

View the discussion on LinkedIn.

View the discussion on LinkedIn.
Distrust with Health Reform & Washington DC

View the discussion on LinkedIn.

View the discussion on LinkedIn.
Opportunity for Insurance Brokers in 2014


45% of Brokers Really Calling it Quits?
So what did the study we mentioned above find? The 2013 Aflac WorkForces Report for Brokers analyzed the trends, attitudes and use of employee benefits, with results derived from online surveys of nearly 1,884 benefits decision-makers, 5,299 workers and more than 300 brokers. According to the brokers surveyed:
29% of brokers are concerned about remaining relevant to their clients.

62% named "rising health care costs impacting client decisions on benefits" as the most important issue for their insurance business right now.

Only 15% of brokers said they are completely confident in the future of their insurance business and the industry.
Source: Aflac.
Huge Opportunity for Brokers Willing to Adapt
With all the changes surrounding health care reform, employers need brokers now more than ever to help understand health reform and navigate new health insurance options.
Because of these changes, employers need brokers who are familiar with health reform, defined contribution health plans, consumer-driven options, and wellness programs. For brokers who can adapt, this leads to huge opportunity for brokers in the new market and new needs of employers.
The need to adapt was reflected in Zywave's 2013 Broker Services Survey that found a widening gap between what employers expect of their broker, and what brokers are delivering. The Zywave report surveyed 5,500 employers nationwide. The survey identified that employers look for these top five features when selecting an employee benefits broker:
Managing health care costs

Keeping in compliance and up to date on changing legislation, including health care reform

Benefits administration and employee benefits education

Keeping up to date on regulatory changes

Controlling workers' compensation costs and managing exposures
Source: Zywave.
Brokers Can Adapt with Defined Contribution Health Care
One of the ways brokers nationally are adapting to the market changes, and actually profiting from the market changes, is by adding defined contribution health care to their offerings. For brokers, defined contribution health care offers a solution to increase individual health insurance policy sales and retain clients who are canceling group health insurance.
See: 3 Simple Ways Brokers Use Defined Contribution to Grow their Book of Business
What are you seeing? Are brokers throwing in the towel? What strategies are you using to thrive in the changing market?
Let's continue the discussion in the comments below.