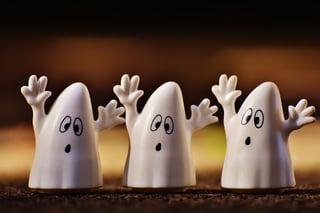 It's Halloween, which means it's also renewal time for small business health insurance. Insurance rate increases are so common these days, we've come to expect them. It's more a question of "how much?" rather than "will they?"
Group health insurance rates are trickling in for 2017, which is giving many small business owners quite a scare. For those who are staring down double digit increases, remember there are other ways to go about providing benefits for your employees.
Group Health Insurance Realities
According to a recent Arthur J. Gallagher & Co. Benefits Strategy & Benchmarking Survey, about 90 percent of employers expected increases in their group health insurance rates. Expectations for 2017 appear to be similar.
Because group health plans spread expenses across the whole group, major claims are felt by every enrollee. In large companies, this may not be a huge problem. For one thing, they can negotiate lower rates (thanks to their numbers), but this also means that there are more people to absorb the increases. Small businesses are at a disadvantage on both fronts, which is why alternative benefits are becoming so popular.
Alternative Benefits Options
One of the most cost effective ways for small businesses to offer health benefits is by switching to defined contribution plans. When you set up a healthcare reimbursement plan (HRP), you designate a specific dollar amount per employee per month that you can afford to contribute to individually-purchased health insurance premiums.
Employees can purchase their own health plan either privately or through the Marketplace and use your defined contribution to help cover the cost. Not only does this method allow you to control costs, but each employee is empowered to choose a health plan that fits best with her family's unique needs.
Making the Switch from Group Health Insurance
Switching from group health insurance plan to a defined contribution model is easy:
Step 1: Cancel your group plan. You'll need to contact your representative or broker to make sure you are following procedure.
Step 2: Set up a defined contribution health plan, such as an HRP. To abide by various rules and regulations, most employers use a third party (such as a reimbursement software) to set up and administer the HRP.
Step 3: Educate your employees on the changes. Employees are going to have questions and it's up to you to answer them. Remember to explain that this is more cost effect for both of you and that it allows them to choose a plan that suits their needs best.
Step 4: Provide your employees with the resources necessary to enroll in the defined contribution benefits and look for an individual insurance plan.
Conclusion
Group health insurance rate spikes don't have to spook you! You have plenty of alternative benefits options that are not only helpful to your businesses strategic goals, but also meaningful for your employees.
Are your group health insurance rates spooking you? What questions do you have about health insurance renewals or a defined contribution approach. Let us know how we can help in the comments below!