You've probably heard the buzz around small business health insurance -- costs are going up this year and small businesses are bracing for big rate hikes at renewal time.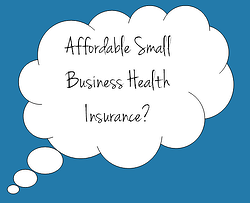 But here's an affordable small business health insurance solution to consider -- don't offer health insurance. Send employees to the individual health insurance market and provide an employer-funded contribution toward individual health insurance.
You may have heard about this approach before. It's commonly called "Pure" Defined Contribution, Premium Reimbursement, or a Section 105 Plan... and it is getting a lot of buzz as well because it offers small businesses an affordable health insurance solution.
An Affordable Small Business Health Insurance Solution
This affordable solution involves three easy steps and all parties win (especially the employee).
Step 1 - Cancel your group health insurance plan (if you have one)
Step 2 - Give employees monthly "healthcare" allowances to spend on health insurance; whether this be tax-free via a Healthcare Reimbursement Plan (HRP) or a taxable stipend.
Step 3 - Allow employees to purchase health insurance in the health insurance marketplaces and receive premium tax credits that cap their health insurance costs as percent of income.
Why This Small Business Health Insurance Solution Works
With this solution there are benefits to employees and the employer.
What are the Benefits to Employees?
With this concept, employees win. Here are the four primary benefits to employees:
Choice: Employees chose the health insurance plan that best fits their families' needs, including choices between multiple health insurance companies and plan designs.

Portability: Employees' individual health insurance is not tied to employment, meaning they are able to take their health insurance with them when they switch jobs.

Guaranteed-Issue: As of 2014, all employees are eligible for individual health insurance regardless of medical conditions.

Cost Savings: Employees reduce their healthcare costs by 50% or more. Most employees have access to tax credits through the health insurance marketplace. If an employee qualifies for a tax credit, their cost of health insurance is capped at 2% - 9.5% of their household income if their household income is less than 400% above the federal poverty line (that's $95,400 per year for a family of 4 in 2014).
See related article: 5 Reasons Employees Love Premium Reimbursement
What are the Benefits to Employers?
With this concept, employers win. Here are the four primary benefits to employers:
Recruiting & Retention: This solution allows employers to recruit and retain employees. In addition to the healthcare allowance, employees also receive the benefits of an individual health insurance policy (Choice, Portability, Guaranteed-Issue, and Cost Savings).

Fixed Cost: The healthcare allowance puts employers in full control of their "healthcare" cost.

Reduced Administration: Employers get out of the health insurance business, so they can focus on their own business.

Savings: Individual health plans cost, on average, up to 60% less than group health insurance. The employer's contribution to employees' healthcare goes further.
See related article: Managing Small Business Health Insurance Costs with Defined Contribution
Can I Still Work With My Health Insurance Broker?
Absolutely. If you and your health insurance broker decide this concept is a better fit for 1) your business and 2) your employees, you can maintain a relationship with your broker.
In this new relationship, the broker would provide a service that helps each individual employee "navigate" the individual health insurance market. That way, when you hire a new employee you can refer them to the health insurance broker for assistance.