New eBook Helps Veterinary Clinics Successfully Accomplish HR Responsibilities in Less Time
Zane Benefits, the leader in individual health insurance reimbursement for small businesses, announced today the publication of a new eBook, "The Veterinary Clinic's Guide to Human Resources." The guide helps veterinary clinics accomplish HR responsibilities such as hiring, training, and benefits in less time.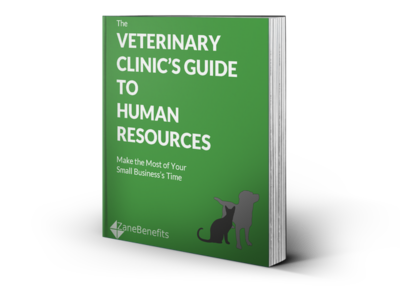 According to Zane Benefits, small business owners spend as much as 50% to 65% of their time on Human Resources.
Whether veterinary clinic owners are handling all of the HR responsibilities alone, or they've been delegated to the office manager, it's taking up valuable time that could be going toward the clinic and clients' pets.
Since HR is very important to a veterinary clinic's success, Zane Benefits has put together a guide that outlines key HR responsibilities and provides tips on the most efficient way to accomplish them.
The eBook helps veterinary clinics free up valuable time to focus on employees and clients and their pets.
The 13-page eBook is available for free download at the zanebenefits.com website and covers the following topics:
Why 50% - 60% of small business owners' time is spent on Human Resources

How to successfully accomplish HR responsibilities in less time

Best practices in hiring, training, and benefits

6 time-saving tips for attracting and retaining the best employees
About Zane Benefits, Inc.
Zane Benefits is the leader in individual health insurance reimbursement for small businesses. Since 2006, Zane Benefits has been on a mission to bring the benefits of individual health insurance to business owners and their employees. Zane Benefits' software helps businesses reimburse employees for individual health insurance plans for annual savings of 20 to 60 percent compared with traditional employer-provided health insurance. Zane Benefits' software was been featured on the front-page of The Wall Street Journal, the USA Today, and The New York Times. Learn more at www.zanebenefits.com.