A health reimbursement arrangement (HRA) is an IRS-approved, employer-sponsored health benefit plan that allows participants to receive reimbursements for a wide variety of out-of-pocket healthcare expenses and certain health insurance premiums.
Through an HRA, employees can get reimbursed for all of the items outlined in IRS Publication 502, which includes over 200 eligible items or expenses!
While you can peruse the complete list of HRA eligible expenses here, we've broken them into two main categories: insurance premiums and out-of-pocket expenses. We'll also highlight some of the most popular products and services within each category and what documents your employees need to submit to get them reimbursed.
Are you a visual learner? Get our infographic summary of the HRA eligible expenses
How does an HRA work?
With an HRA, employers offer employees a monthly or annual benefit allowance. Once an employee incurs a medical-related expense, they submit their expense for reimbursement. If the expense is for a qualifying cost and the employees provide all of the substantiation requirements needed, employers can process the request for reimbursement.
This allows employees more freedom and flexibility in using their health benefits.
1. Insurance premiums
The first category we'll cover is insurance premiums. According to PeopleKeep customer data, individual health insurance premiums are the number one expense HRA participants get reimbursed.
The following types of insurance premiums are all HRA-qualified, provided they're not already paid with pre-tax dollars:
Major medical individual health insurance premiums
Dental care and vision care premiums
Medicare Part A or B, Medicare HMO, and employer-sponsored health insurance premiums
Medicare Advantage and Supplement premiums
COBRA premiums
What's nice about insurance premiums is that since they're a recurring expense that employees only need to submit once each year, IRB 2006-31 allows employees to receive automatic reimbursement without further review of recurring expenses as long as they match previously approved expenses as to amount, provider, and time period.
Download our 2022 QSEHRA annual report to see how PeopleKeep customers are using their HRA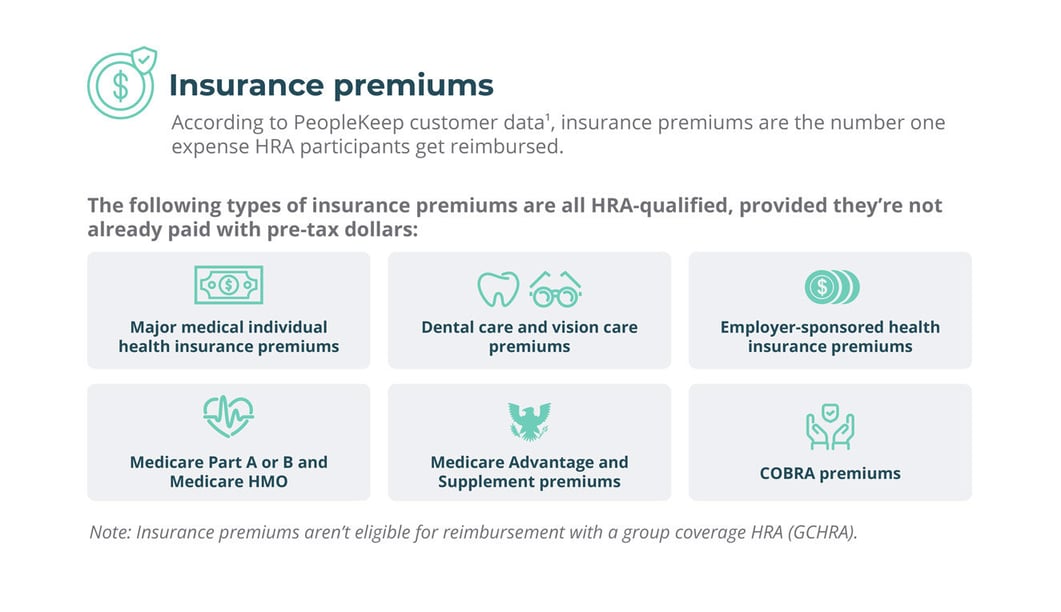 2. Out-of-pocket expenses
Next, there are out-of-pocket expenses. This includes any qualifying medical expenses your employees' insurance plans don't already cover or anything their insurance company expects them to pay for on their own.
Qualifying out-of-pocket expenses can include medical costs, vision expenses, dental care, and more. Depending on what kind of out-of-pocket costs your employees are paying, they'll need to submit different documents to get them reimbursed.
There are three categories of out-of-pocket expenses that are reimbursable with different forms of documentation:
Costs that are reimbursable with proof of an incurred expense
Costs that are reimbursable with proof of an incurred expense and a doctor's note
Costs that are reimbursable with proof of an incurred expense and a prescription
Costs that are reimbursable with proof of an incurred expense
To start off, some out-of-pocket costs only require the minimum amount of documentation to get reimbursed, and that's proof of an incurred expense. This could be a receipt or an invoice.
Your employees' proof must include the following:
The name of the item or service
The name of the vendor
The date of purchase
This category of costs would include any qualifying medical expenses that employees need to pay for before they meet their deductible or out-out-pocket maximum and copayments.
A few popular expenses in this category are doctor's visits, prescription drugs, dental care, mental health counseling, physical therapy, and chiropractic care.
However, these expenses don't have to be large. This category also includes several common store items like cold medicine, sunscreens, bandages, eyeglasses and contacts, allergy medicine, pain relievers, and so much more.
Many HRAs don't roll over year-to-year, so these are the kinds of things employees may choose to stock up on before the new plan year starts to take full advantage of the benefit.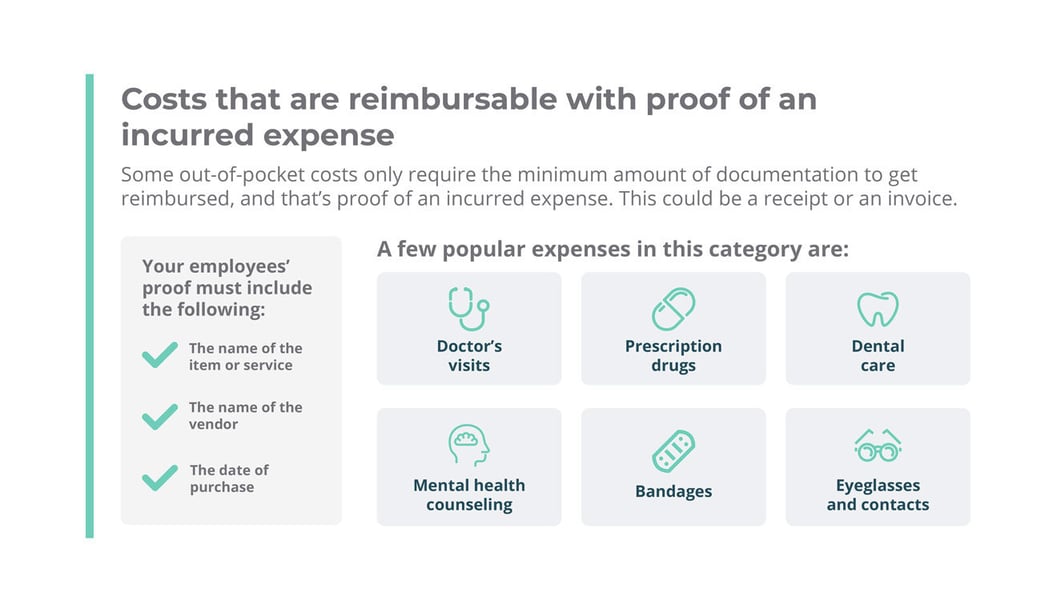 Costs that are reimbursable with proof of an incurred expense and a doctor's note
Next, let's talk about the reimbursable expenses with both proof and a doctor's note. Many over-the-counter healthcare products are eligible for reimbursement, but some will need a doctor's note explaining that they're medically necessary.
In order for these items to qualify for reimbursement, the doctor's note needs to include:
The specific names of the items recommended
What medical condition the item is treating

They can't just be for general health or wellness

Signature of a licensed medical practitioner
Some things that are reimbursable with a doctor's note are fitness programs, dental veneers, massage therapy, dietary supplements, exercise equipment, and dermatology products.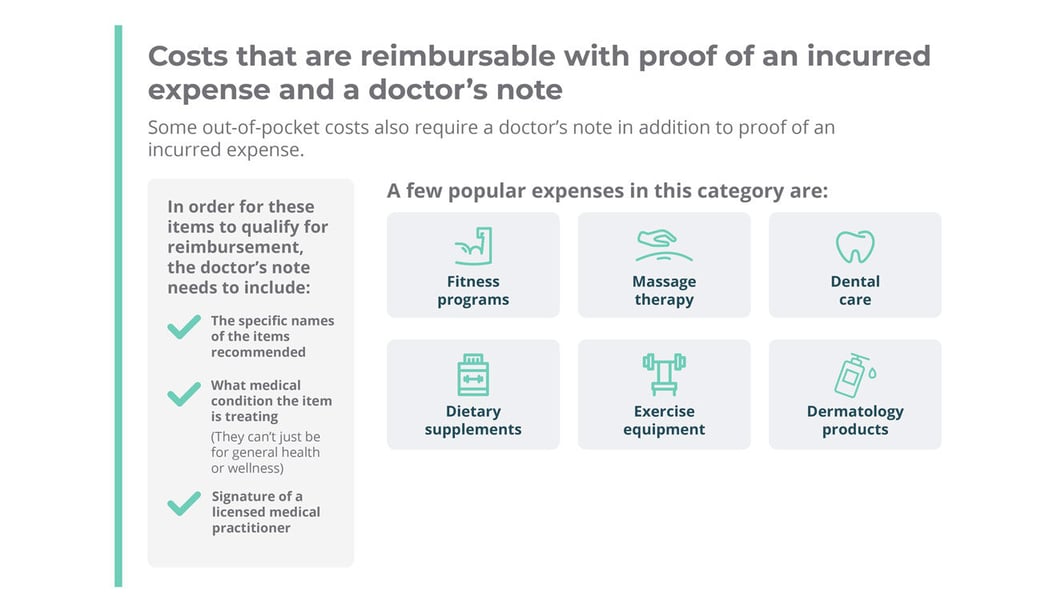 Costs that are reimbursable with proof of an incurred expense and a prescription
The last category includes out-of-pocket expenses that are reimbursable with proof and a prescription. Common items that employees get reimbursed with prescriptions are vitamins and medicated toothpaste.
While prescription drugs are reimbursable through an HRA, employees don't need to submit their prescriptions along with their proof to get reimbursed. A prescription drug already requires a doctor's prescription to purchase from the pharmacy, so employees won't be asked for their prescription information again.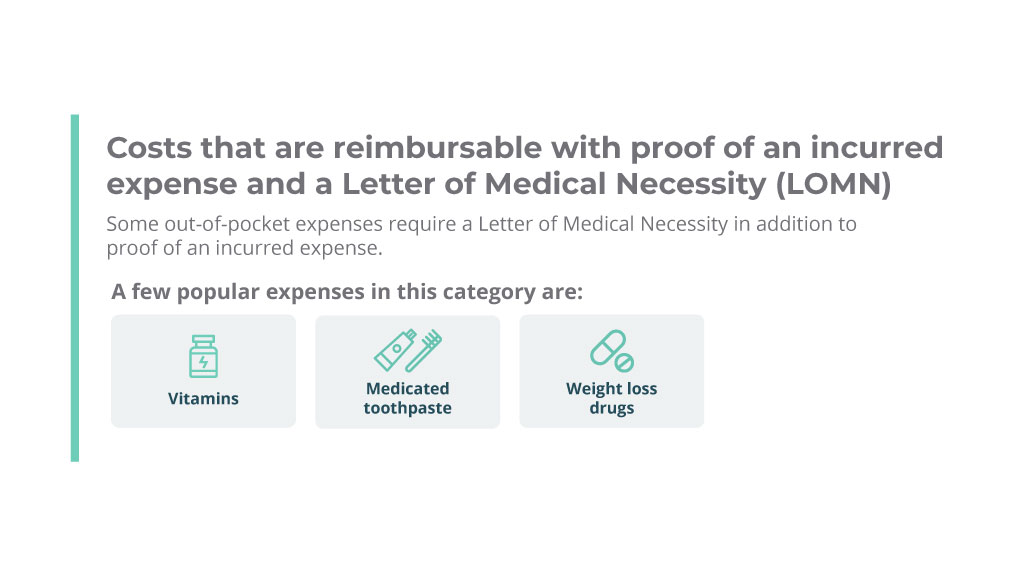 What are examples of ineligible HRA expenses?
Anything not listed on IRS Publication 502 is ineligible for reimbursement with tax-free HRA funds.
Examples of items ineligible for reimbursement are:
Cosmetic procedures or surgery
Marriage counseling
CPR classes
General dental products, such as standard toothpaste
Diapers or diaper services
Funeral expenses
Hair removal or hair transplants
Hand lotion
Maternity clothes
Swimming lessons other than those for therapy
General vitamins and dietary supplements
While this list isn't exhaustive, it provides an idea of what expenses you can't have reimbursed with an HRA.
Not seeing what you're looking for? Consider a health stipend
If the HRA eligible expenses don't cover what you're looking to reimburse with an HRA, other options are available for providing a quality health benefit to your employees.
A health stipend works similar to an HRA, where you can reimburse your employees for their medical care costs, out-of-pocket expenses, and insurance premiums. However, a health employee stipend has fewer regulations or restrictions than an HRA, meaning you can choose to reimburse more items than what the IRS allows.
For example, you can't reimburse employees for a weight loss program under an HRA unless it is a doctor-supervised program with a medical determination letter. However, you could choose to reimburse an employee for a general weight loss program with a health stipend.
Health stipends also have fewer substantiation requirements in order to reimburse employees. For example, all of the HRA eligible expenses in IRS Publication 502 can't require proof of purchase with a stipend, as doing so would change reimbursement rules and subject your benefit to additional requirements.
But, there are some exceptions to the substantiation rules. Direct primary care network membership fees and health sharing membership fees, for example, require substantiation such as a bill or receipt.
Health stipends are also taxable for both the employer and the employee, making tax-free HRAs a better option for organizations that want tax-savings.
So, who benefits from a health stipend instead of an HRA? Health stipends are an excellent option for 1099 contractors and international workers who can't be offered an HRA. It is also beneficial for employees who receive advance premium tax credits (APTCs).
See the difference between HRAs and health stipends with our free comparison chart
Conclusion
An HRA is an ideal way for organizations, both big and small, to offer a quality health benefit to employees at a cost that you can afford. Clearly communicating the variety of ways employees can use their HRA ensures your employees fully utilize their health benefits and allows you to recruit and retain employees looking for a unique and flexible benefits package from their employer.
Working with an HRA administrator such as PeopleKeep can help ensure that you only reimburse employees for eligible expenses.
If you're ready to offer an HRA or health stipend to your employees, PeopleKeep can help! Our HRA and personalized employee stipend administration software makes it easy to set up a health benefit in minutes.
Schedule a call with a personalized benefits advisor today to see how HRAs or health stipends can work with your organization
This blog article was originally published on February 10, 2020. It was last updated on June 2, 2022.