Health reimbursement arrangements (HRAs) are IRS-approved, employer-sponsored health benefit plans that allow participants to receive reimbursements for a wide variety of out-of-pocket healthcare expenses as well as certain health insurance premiums.
Through an HRA, employees can get reimbursed for all of the items outlined in IRS Publication 502, which includes over 200 eligible expenses!
While you can peruse the full list of IRS-approved expenses here, we've broken them all down into two main categories: 1) insurance premiums and 2) out-of-pocket expenses. We'll also highlight some of the most popular products and services within each of these categories and what documents your employees need to submit in order to get them reimbursed.
Are you a visual learner? Get our infographic summary of the HRA-eligible expenses
1. Insurance premiums
The first category we'll cover is insurance premiums. According to PeopleKeep customer data, insurance premiums are the number one expense HRA participants get reimbursed.
The following types of insurance premiums are all HRA-qualified, provided they're not already paid with pre-tax dollars:
Major medical individual health insurance premiums
Dental care and vision care premiums
Medicare Part A or B, Medicare HMO, and employer-sponsored health insurance premiums
Medicare Advantage and Supplement premiums
COBRA premiums
What's nice about insurance premiums is that since they're a recurring expense that employees only need to submit once each year, IRB 2006-31 allows employees to receive automatic reimbursement without further review of recurring expenses as long as they match previously approved expenses as to amount, provider, and time period.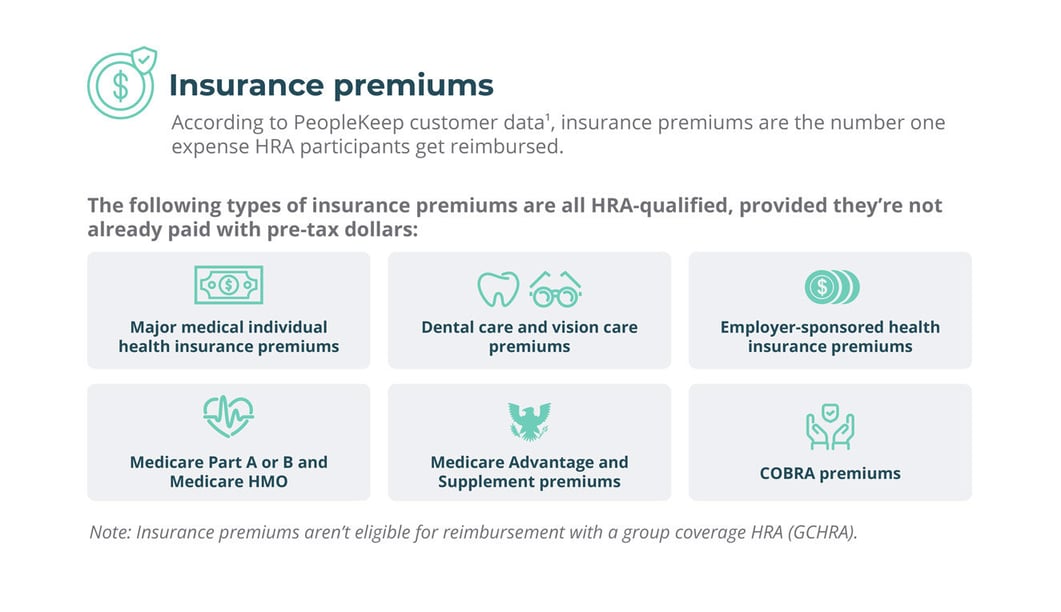 2. Out-of-pocket expenses
Next, there's out-of-pocket expenses. This includes any qualifying medical expenses your employees' insurance plans don't already cover, or anything their insurance company expects them to pay for on their own.
Depending on which kind of out-of-pocket costs your employees are paying for, they'll need to submit different documents in order to get them reimbursed.
There are three categories of out-of-pocket expenses that are reimbursable with different forms of documentation:
Costs that are reimbursable with proof of an incurred expense
Costs that are reimbursable with proof of an incurred expense and a doctor's note
Costs that are reimbursable with proof of an incurred expense and a prescription
Costs that are reimbursable with proof of an incurred expense
To start off, some out-of-pocket costs only require the minimum amount of documentation to get reimbursed, and that's proof of an incurred expense. This could be a receipt or an invoice.
Your employees' proof must include the following:
The name of the item or service
The name of the vendor
The date of purchase
This category of costs would include any qualifying medical expenses that employees need to pay for before they meet their deductible or out-out-pocket maximum, as well as copayments.
A few popular expenses in this category are doctor's visits, prescription drugs, dental care, mental health counseling, and chiropractic care.
However, these expenses don't have to be large. This category also includes several common store items like cold medicine, sunscreens, bandages, eyeglasses and contacts, allergy medicine, pain relievers, and so much more.
Many HRAs don't rollover year-to-year, so these are the kinds of things employees may choose to stock up on before the new plan year starts to take full advantage of the benefit.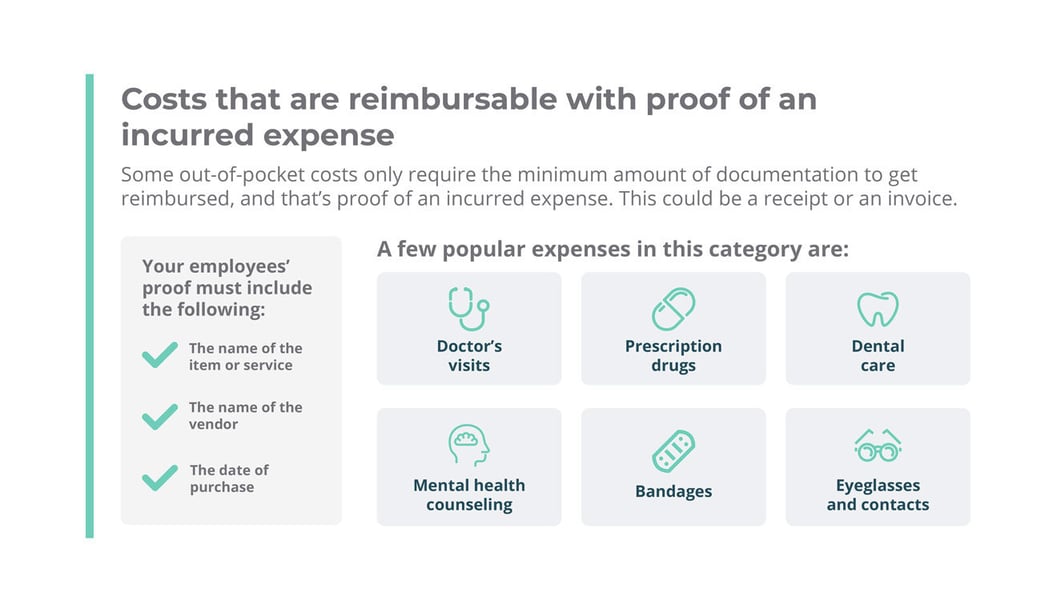 Costs that are reimbursable with proof of an incurred expense and a doctor's note
Next, let's talk about the expenses that are reimbursable with both proof and a doctor's note. Many over-the-counter healthcare products are eligible for reimbursement, but some will need a doctor's note explaining that they're medically necessary.
In order for these items to qualify for reimbursement, the doctor's note needs to include:
The specific names of the items recommended
What medical condition the item is treating

They can't just be for general health or wellness

Signature of a licensed medical practitioner
Some things that are reimbursable with a doctor's note are fitness programs, dental veneers, massage therapy, dietary supplements, exercise equipment, and dermatology products.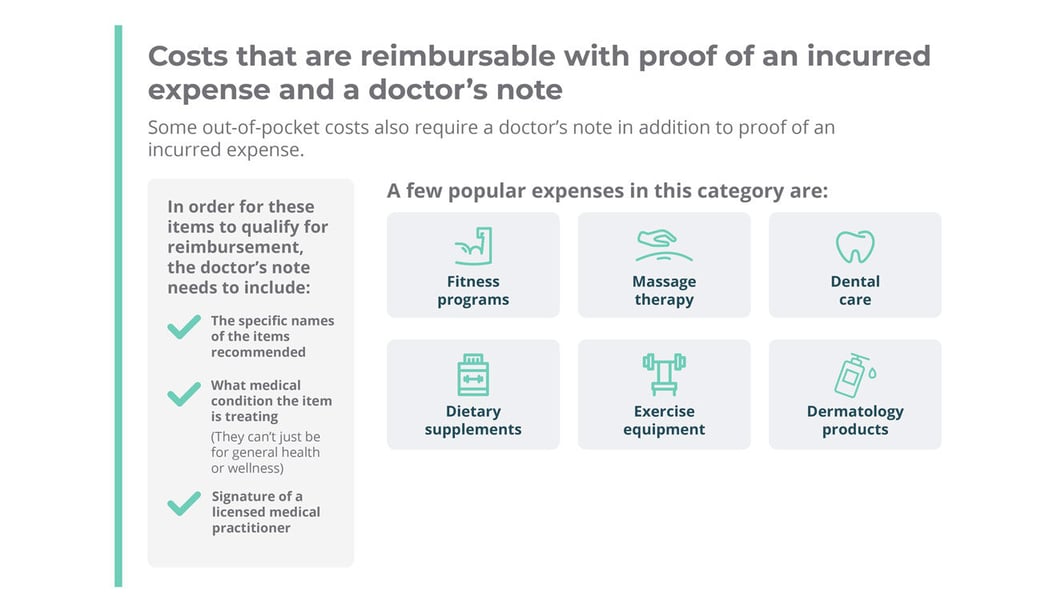 Costs that are reimbursable with proof of an incurred expense and a prescription
The last category includes out-of-pocket expenses that are reimbursable with proof and a prescription. Common items that employees get reimbursed with prescriptions are vitamins and medicated toothpaste.
While prescription drugs are reimbursable through an HRA, employees don't need to submit their prescription along with their proof in order to get reimbursed. Prescription drugs already require a prescription in order to purchase them from the pharmacy, so employees won't be asked for their prescription information again.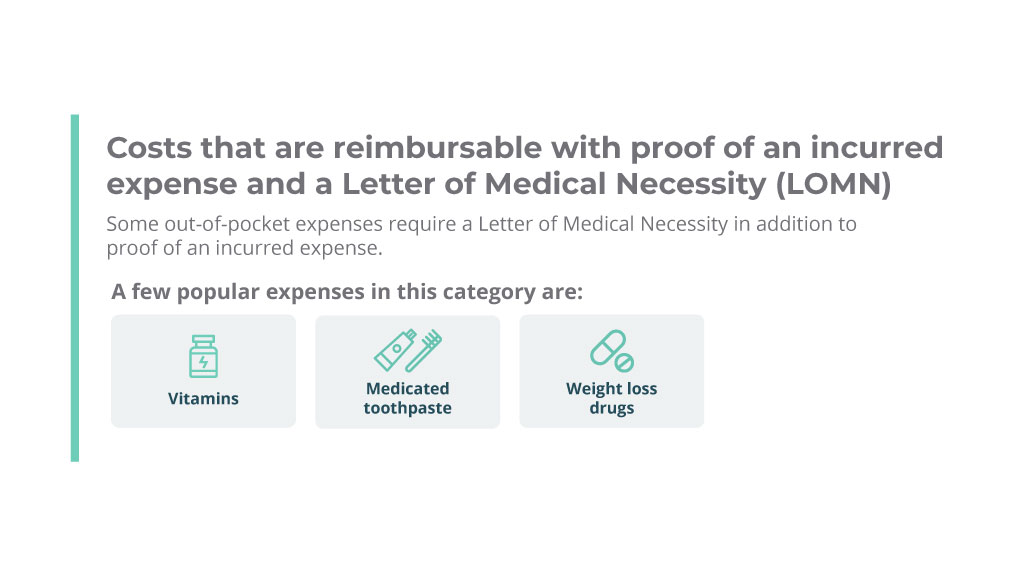 Conclusion
An HRA is an ideal way for organizations both big and small to offer a quality health benefit to employees at a cost that you both can afford. Clearly communicating the variety of ways employees can use their HRA not only ensures your employees fully utilize their health benefit, but it also allows you to recruit and retain employees looking for a unique and flexible benefits package from their employer.
This article was originally published on February 10, 2020. It was last updated on October 4, 2021.