What's the consensus among small business owners about the economy, spending, hiring, and financing? According to a recent survey, owner optimism is up.
According to a January 2014 survey and infographic by Balboa Capital: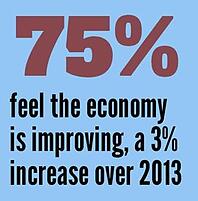 75% of business owners feel the economy is improving, a 3% increase over 2013.

84% expect flat or higher economic growth, a 1% increase over 2013.

The top areas small businesses are spending are in capital equipment (27%), marketing (33%), and hiring (22%).

78% of small business owners are expecting unchanged or higher revenues in 2014.

73% of small business owners feel confident about the future of their business.
Infographic - 2014 Small Business Survey
Disclaimer: The views represented in these infographics do not necessarily reflect the views of Zane Benefits, its staff, or its affiliate partners.

Infographic by: www.balboacapital.com
Looking for more small business infographics? See: