Despite the mandate that most Americans carry health insurance or pay a penalty, young workers employed by large companies signed up for job-based health plans at a lower rate than last year, according to a report by payroll services company Automatic Data Processing Inc. (ADP).
According to ADP, between 2010 and 2013, the percentage of full-time employees who were eligible for employer-provided health benefits remained relatively steady at an average of 88%, and participation rates remained stable at an average of 65%.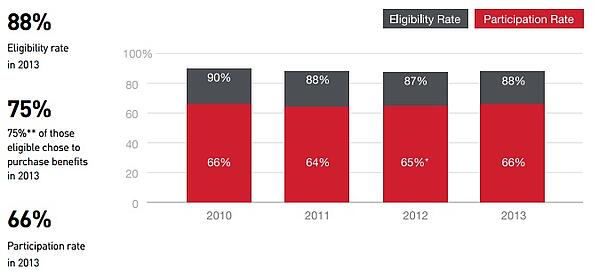 Although health benefits eligibility has declined slightly in every age group since 2010, younger workers faced the largest decrease, which may indicate that jobs taken by younger people were less likely to offer health benefits.
When employees under age 30 were offered benefits, however, only half participated in their employer's health benefits program in 2013. This represents a 2.6% decrease from 2010. According to ADP, the ability to obtain health coverage through a parent's health plan up to age 26 may be a partial explanation for this trend.

Tim Clifford, president of ADP Benefits Administration Services was quoted in ADP's press release saying, "ADP's 2013 Annual Health Benefits Report suggests that younger generations and lower wage workers are facing the greatest healthcare challenges in terms of eligibility and cost, and these are employees that employers will need to carefully consider when designing and communicating their 2014 benefits programs."
Source: ADP
What do you think of these trends in young workers and employer health insurance? Join the discussion below.