Whether you are uninsured, or just want to explore new options, the new Health Insurance Marketplaces will give you and your family choice. Starting October 1st, 2013, you will be eligible to enroll in health insurance via the new health insurance marketplaces (for coverage starting January 1st, 2014). Here's step-by-step check list to ensure you are prepared for the October 1st, 2013 open enrollment.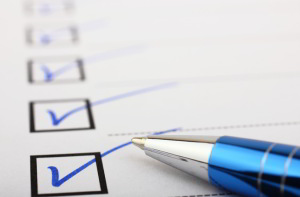 Step 1 - Find out whether your employer will offer group health insurance post-2014!
There are two primary categories of health insurance to choose from:
Individual health insurance,

Group health insurance.
1) Individual Health Insurance
Individual health insurance plans are health insurance plans purchased by individuals to cover themselves or their families. Anyone can apply for individual health insurance. In 2014, insurance companies will no longer be able to decline individuals for individual health insurance based on a pre-existing medical condition. Also, starting in 2014, there are new special tax incentives available to businesses and employees when employees purchase individual health insurance.
2) Group Health Insurance
Group health insurance plans are a form of employer-sponsored health coverage. Costs are typically shared between the employer and the employee, and coverage may also be extended to dependents. In certain states, self-employed persons without other employees may qualify for group health insurance plans.
Many small businesses are expected to terminate group health insurance (in favor of individual health insurance) in 2014.
Step 2 - Learn about different types of health insurance!
Whether you're looking at individual health insurance or group health insurance, there are several different types of health plans available. The four you should know are:
PPO Health Insurance Plans,

HMO Health Insurance Plans,

HSA-Qualified Health Insurance Plans, and

Indemnity Health Insurance Plans.
The plan type that is best for you and your employees depends on what you and your employees want, and how much you are willing to spend. Here's a brief review of the four popular types of health insurance plans:
1) PPO Health Insurance Plans
PPO or "Preferred Provider Organization" plans are the most common. Employees covered under a PPO plan need to get their medical care from doctors or hospitals on the insurance company's list of preferred providers in order for claims to be paid at the highest level.
2) HMO Health Insurance Plans
HMO stands for "Health Maintenance Organization." HMO plans offer a wide range of health care services through a network of providers that contract exclusively with the HMO, or who agree to provide services to members. Employees participating in HMO plans will typically need to select a primary care physician ("PCP") to provide most of their health care and refer them on to HMO specialists as needed.
3) HSA-Qualified Health Insurance Plans
HSA-qualified plans are typically PPO plans designed specifically for use with Health Savings Accounts (HSAs). An HSA is a special bank account that allows participants to save money – pre-tax – to be used specifically for medical expenses in the future. Health Reimbursement Arrangements (HRAs) are often used in place of HSAs due to their advantages for employers (see HRAs vs. HSAs for more information).
4) Indemnity Health Insurance Plans
Indemnity plans allow members to direct their own health care and generally visit any doctor or hospital. The insurance company then pays a set portion of the total charges. Employees may be required to pay for some services up front and then apply to the insurance company for reimbursement.
Step 3 - Make sure you understand the health insurance terminology!
When shopping for a health insurance plan, one of the challenges people face is understanding health insurance terminology. Here are five key health insurance terms you and your employees need to understand:
"Premium" – The premium is the amount you pay to the health insurance company each month to maintain your health insurance.

"Copayment" – Your copayment, or "co-pay," is the specific dollar amount you may be required to pay up front for a specific type of service.

"Deductible" – Your annual deductible is the amount you may be required to pay out-of-pocket before the insurance company will begin paying for your covered medical claims.

"Coinsurance" – Coinsurance is the amount that you are obliged to pay for covered medical services after you've satisfied any copayment or deductible required by your health insurance plan.

"Max Out-of-Pocket (OOP) Costs" - Your maximum out-of-pocket cost sets a limit to your annual financial liability.
Step 4 - Make a list of questions to ask your broker or navigator!
Some questions you might want to ask include:
Can I stay with my current doctor?

Will this plan cover my health costs when I'm traveling?

Will I be eligible to contribution to an HSA?

How will this cover my <fill in the blank> pre-existing condition?
Step 5 - Gather basic information about your household income!
Beginning 2014, individuals will have access to tax subsidies to buy private health insurance through the public exchange. These subsidies will be for those who enroll in a silver plan through the exchange. The subsidy caps the cost of individual health insurance at 2% - 9.5% of their household income if their household income is less than 400% above the federal poverty line. This equates to roughly $90,000 per year for a family of four.
Click here for more information on the premium subsidies.
Step 6 - Set your budget!
There will be different types of health plans to meet a variety of needs and budgets, and breaking them down by cost can help narrow your choices.
Step 7 - Watch for more information in October 2013!
Starting in October 2013, you will be able to get information about all the plans available in your area.