2014 presents great opportunities for health insurance professionals who are able to adapt to the new ObamaCare health insurance landscape. As a benchmark, what are health insurance professionals earning now? Here's a look.
The annual mean salary of health insurance insurance agents in the US is ~$63,400 a year, according to the Bureau of Labor Statistics (BLS) May 2012 report. However, the average earnings vary by state and region.

According to the BLS, the top paying metropolitan areas are Bloomington, IL (annual mean wage of $117,00 a year), Santa Rosa, CA ($94,740), and Santa Ana-Anaheim-Irvine, CA metro ($91,800).
The states with the highest employement level of insurance agents are Texas, California, Florida, New York, and Pennsylvania.
Insurance Professional Salaries By State
The following maps show annual mean wage of insurance sales agents by state and by region. Note: These graphs include all insurance professional sales agents (health and others).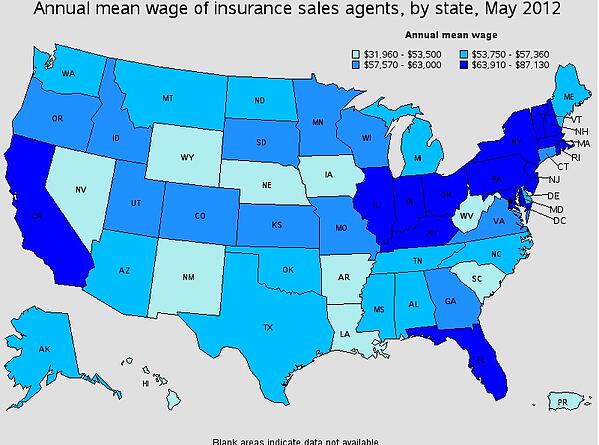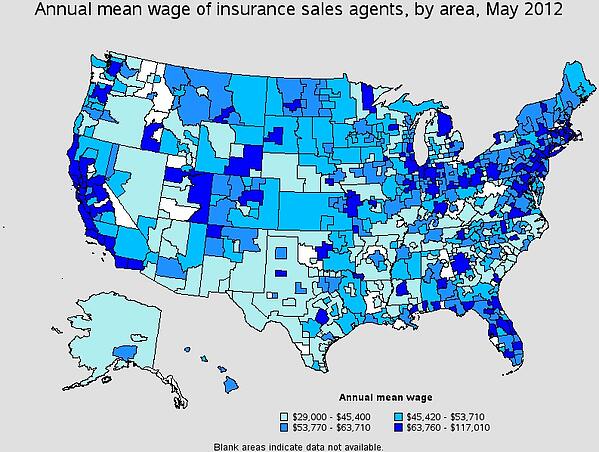 Source: Bureau of Labor Statistics
Related articles: