As a small business owner, either you or one of your employees are in charge of human resources (HR).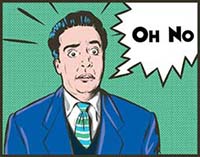 And with so many regulations and compliance matters, you're probably constantly wondering if your small business is HR compliant. So, to help you out, we've come up with a checklist of HR compliance matters you need to know that will save you money and time - and protect you from legal issues.
Some of these HR matters are ones you're aware of, and others are matters that are becoming increasingly important as regulations evolve with time.
Wages
It's important to pay at least minimum wage to your employees, and to also keep in mind gender discrimination for wages. Right now in the U.S., the federal minimum wage is $7.25/hour. However, it's important to note that states, counties, and cities have established their own minimum wage laws as well.
As for gender discrimination and wages, remember to promote equal pay opportunity to both your male and female employees. Furthermore, regulations from the Office of Federal Contract Compliance Programs require disclosure of significant compensations data that is used to analyze and enforce actions to reduce compensation discrimination.
Classifying Employees
Classifying your employees correctly has a bigger impact than you may know. How so? Did you know that misclassified employees are often denied access to critical benefits and protections such as family and medical leave, overtime, minimum wage, and unemployment insurance?
Additionally, when you misclassify an employee, it results in a substantial loss to the Treasury, Social Security, and Medicare funds as well as to state unemployment insurance and workers compensation funds.
Knowing this, it's important to classify your employees correctly. Whether they are employees or independent contractors, full-time, part-time, or temporary will be important and ensure they are granted their entitlements as a worker.
Health Benefits Compliance
Because many small businesses are unable to afford traditional group health insurance plans, many have chosen to reimburse their employees for individual health insurance premiums. If this is your case, it's extremely important that your plan is compliant with recent health reform.
Just like many other federal compliance issues, you could find yourself facing serious fees if your plan is not compliant. For this reason, many small businesses choose a Premium Reimbursement Software Provider in order to bypass any risk of simple mistakes.
Social Media Policy
Social media is hard to ignore. In fact, if you were to survey your employees, chances are well over half of them use social media. As such, it has become increasingly important to have a concrete policy for social media. You or your HR representative should work with a legal team to ensure your policies are compliant. Having a compliant, fair policy in place will save you and your employees from any future legal messes.
I-9 Compliance
The Department of Homeland Security Immigration and Customs Enforcement has conducted a record number of worksite enforcement investigations, criminal prosecutions, and notices of inspection and administrative fees as of late.
Knowing this, it is becoming ever important to have your I-9 bases covered. Even if your company doesn't have concerns about illegal or unauthorized employees, I-9 compliance is an area which houses significant potential financial risk to your business because Immigration and Customs Enforcement (ICE) is citing for forms filled out incorrectly.
Conclusion
Ensuring your small business is HR compliant is a good way to save yourself from future headache. With the possibility of audits, legal fees, and other forms of reprimand for not adhering to federal regulations, it's imperative that you cover all of your HR bases.
For more HR compliance insight, read: How to Tell if Your Small Business is HR Compliant
Is your small business HR compliant? If not, what questions do you have for us that we can help with? Comment below.