Florida employee benefits and HR rules
When evaluating your employee benefits options as a small or medium size business in Florida, you need to know which benefits are required in The Sunshine State.
Want to provide personalized benefits that help you satisfy Florida benefits and HR laws? Schedule a free consultation with a personalized benefits advisor today.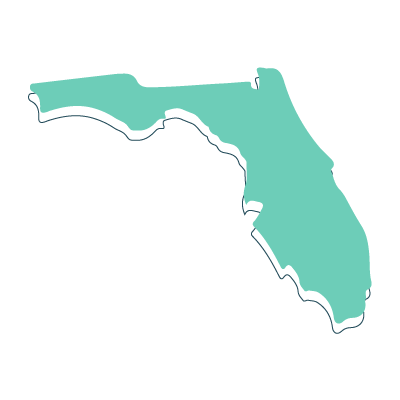 Is your organization in compliance with Florida's employment laws?
As a Florida-based organization or an employer of Florida workers, you must familiarize yourself with benefits and HR compliance. This guide to HR laws in Florida will provide a general overview of the laws you need to know.
Topics covered in this guide include:
What rights do employees have in Florida?
Employee rights are protected by both state and federal law. If you have workers or plan to hire in the state, you must know what rights your employees have.
Some Florida-specific state rights include:
State minimum wage

The Florida Minimum Wage Act provides additional protections on top of the federal minimum wage, requiring employers to pay nonexempt workers at least $11 per hour starting September 30, 2022, and increasing $1 per hour each year through 2026.

Whistleblower protections

Employees may disclose information to government agencies, provide testimony in connection with any investigation, and refuse to comply with a policy or task that violates state or federal law without retaliation, provided they spoke with a supervisor first to try and correct the problem

Equal pay

Employers with two or more employees must provide equal pay for jobs that require the same skills, effort, job duties, and responsibility
There are exceptions for seniority, merit, earnings measured by quantity or quality of work, and other factors

Weapons in the workplace

Employees are generally allowed to lawfully possess a firearm in their privately owned vehicle on their employer's property
Employers can't ask if employees have a firearm in their vehicle, search for them, or prevent an employee from entering the parking lot because they have a lawful firearm in their vehicle
What are employers required to provide to Florida employees?
In addition to federal law, Florida employment law requires employers to provide eligible employees with certain employee benefits and accommodations.
Required benefits include:
Domestic violence leave (for organizations with more than 50 employees)

Up to three days per year

Jury duty leave
Witness leave
Military leave
Civil Air Patrol leave (for organizations with 15 or more employees)
Healthcare continuation

The Florida Health Insurance Coverage Continuation Act requires employers with fewer than 20 employees to provide continued health coverage for up to 18 months

Workers' compensation insurance

Employers with four or more employees must provide workers' compensation coverage
Florida doesn't require the following benefits:
Paid time off
Meal breaks or rest breaks
Health insurance benefits, although federal law requires health coverage for organizations with 50 or more

full-time equivalent employees

(FTEs)
Disability insurance
Retirement plans (although federal law requires this for certain eligible employees)
Locally required employee benefits include:
Domestic violence leave in Miami-Dade County

Employees in Miami-Dade County may take up 30 days of leave per year if they or a family member is a victim of domestic violence
Wage laws in Florida
Wages and hours worked in Florida are subject to various state and local laws. We've compiled the most important requirements to know in the sections below.
Florida state minimum wage laws
Florida has state minimum wage rates for non-exempt employees that exceed the federal minimum wage. Florida voters approved minimum wage increases through 2026.
| | |
| --- | --- |
| Date in effect | Minimum wage |
| September 30, 2021 | $10/hour |
| September 30, 2022 | $11/hour |
| September 30, 2023 | $12/hour |
| September 30, 2024 | $13/hour |
| September 30, 2025 | $14/hour |
| September 30, 2026 | $15/hour |
Workers who earn tips don't need to be paid minimum wage. Instead, employers may pay tipped workers $6.98/hour before tips. However, they must earn at least the state minimum wage with tips.
| | |
| --- | --- |
| Date in effect | Tipped workers minimum wage |
| September 30, 2021 | $6.98/hour + tips |
| September 30, 2022 | $7.98/hour + tips |
| September 30, 2023 | $8.98/hour + tips |
| September 30, 2024 | $9.98/hour + tips |
| September 30, 2025 | $10.98/hour + tips |
| September 30, 2026 | $11.98/hour + tips |
Employers may pay employees under the age of 20 a minimum wage of $4.25/hour for the first 90 days of employment. High school and college students who work part-time may be paid 85% of the state minimum wage.
Local governments are prohibited from setting their own minimum wage rates in Florida unless an exemption has been granted from the state legislature for specific employment contracts. Miami Beach passed a city minimum wage in 2016, but the state supreme court struck it down in 2019.
There are also state overtime requirements. All eligible employees who work more than 40 hours per week are entitled to at least 1.5 times their regular rate for overtime hours.
Child labor laws in Florida
In many cases, Florida has stricter child labor laws than the Federal Fair Labor Standards Act (FLSA) mandates.
Minors aged 16 and 17 may not work during school hours and may only work up to 30 hours per week between the hours of 6:30 a.m. and 11 p.m. when school follows the next day. Minors can't work more than six consecutive days and more than four consecutive hours without a 30 minute meal break.
Minors aged 14 and 15 can work up to 15 hours per week (and no more than three hours on school days) between the hours of 7 a.m. and 7 p.m. when school follows the next day.
Other HR rules in Florida
There are a few other HR rules you need to be aware of in Florida.
Discrimination
Florida employers must adhere to federal laws regarding discrimination in hiring and the workplace. Employers can't discriminate on the basis of age, race, ethnicity, national origin, sex, or other characteristics. Various Florida counties also prohibit employment discrimination based on sexual orientation, in addition to federal protections.
Protection from defamation
Employers in Florida are protected from defamation for making comments about current or former employees that were made in good faith.
Drug testing
Florida prohibits employers from forcing a job applicant to take a drug test. However, employers can make a drug test a condition of employment when offering the job.
Health insurance coverage in Florida
While the state doesn't require organizations to offer insurance, federal law mandates employers with 50 or more FTEs to provide insurance with minimum essential coverage (MEC).
Even if you aren't required to provide insurance to your employees, health benefits are an excellent way to attract and retain top talent, especially in a tight labor market.
Traditional group health insurance is a popular option amongst Florida employers. However, rising premium costs and year-over-year rate hikes have made it more challenging for small to medium-sized businesses to offer a health benefit.
Luckily, there are a couple of alternatives for small business owners who can't afford group coverage.
Health reimbursement arrangement (HRA)
A health reimbursement arrangement (HRA) is an IRS-approved, employer-funded health benefit that allows you to reimburse your employees, tax-free, for their individual health insurance premiums and qualifying medical expenses.
With an HRA, you have complete control over your benefit while giving your employees more freedom to choose how they want to use their benefit.
Some HRAs, such as the individual coverage HRA (ICHRA), can satisfy the federal regulations for applicable large employers (ALEs).
Learn more about each HRA
Health stipend
A health stipend is a fixed sum of money offered to your employees to help pay for their healthcare expenses. A health employee stipend isn't a formal group health plan, so you have complete control over which expenses are eligible for reimbursement.
This makes a health stipend an excellent option for small businesses looking to offer a health benefit that covers costs health insurance or HRAs may not cover, such as mental health expenses.
FREE DOWNLOAD
Learn the differences
between a health stipend and a health reimbursement arrangement
FAQ
Frequently asked questions
Does Florida have its own labor laws?
Yes, Florida has a number of employment and labor laws that aim to protect workers. Florida workers are also protected by federal law, such as the Fair Labor Standards Act (FLSA).
Can you be fired for no reason in Florida?
Yes. Florida is an at-will employment state, meaning that employees can quit at any time, and employers can fire employees at any time with or without cause. However, your employer can't fire you on the basis of age, race, sex, national origin, disability, gender, pregnancy, color, sexual orientation, or identity.
What is the longest shift you can legally work in Florida?
Florida doesn't regulate the number of hours you can work continuously. However, eligible employees are entitled to overtime pay if they work more than 10 hours in a single day.
What are my rights as an employee in Florida?
In Florida, workers have the right to fair wages, safety from discrimination, whistleblower protections, and equal pay.
How do I file a complaint against my employer in Florida?
You can file a federal labor complaint through the Department of Labor's Wage and Hour Division online or by calling 1-866-487-9243. Florida has no state agency for enforcing regulations of wages and hours worked.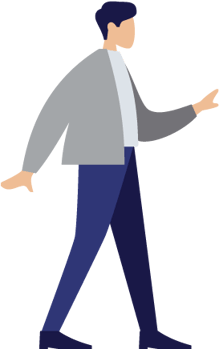 GET IN TOUCH
Looking to enhance your benefits package?
Speak with a PeopleKeep personalized benefits advisor who can help you answer questions, and help you select the right benefits package for your team.