The Affordable Care Act's (ACA) employer mandate relies heavily on calculating your full-time equivalent employees (FTEs). This is because understanding the number of FTEs your company has allows you to determine if your company is considered an applicable large employer (ALE) and is even required to adhere to the employer mandate.
You can avoid the employer mandate's two penalties if you're an ALE that offers affordable health coverage that meets minimum essential coverage (MEC) to FTEs and their dependents at least annually.
However, in order to find out if these requirements apply to your business, you first must calculate your company's FTEs to determine ALE status.
In this article, we'll discuss what an FTE is, what your FTE number means if you're an ALE, and how to calculate the number of FTEs in your organization.
Not sure if your organization has to offer health insurance? Check out our reference chart!
Looking for an answer to a specific question? Click on a link below!
What is an ALE?
Simply put, an ALE is an organization that has 50 or more FTEs. This is determined by the employer calculating their total average FTEs during the prior year.
If your business qualifies as an ALE, it means you're required to offer health insurance to your employees, as required by the ACA, or potentially be subject to a tax penalty. You'll also need to complete IRS forms 1094-C and 1095-C describing the type of healthcare you provided according to the employer shared responsibility provisions (ESPR).
If an employer has fewer than 50 FTEs, they aren't considered an ALE nor are they required to offer health coverage to their employees or pay a penalty. However, it's a good idea for businesses to offer health benefits to maintain morale and increase employee retention.
Find out if your organization's health coverage satisfies the employer mandate
What is an FTE?
Many employers often wonder what the difference is between a full-time employee and full-time equivalent. An employee is considered a full-time employee for a calendar month if they average at least 30 hours of service per week or at least 130 hours of service during the calendar month. However, the number of full-time equivalent employees (FTEs) at an organization is a combination of full-time employees and part-time employees.
Employers can calculate how many full-time employees they have, along with the number of part-time employees that count as full-time employees, to make up their total FTEs. FTEs are especially important for business owners when determining whether the employer is an ALE.
How do you calculate monthly FTEs?
To determine if your company is an ALE, you must include all FTEs in your total number. To calculate the full-time equivalent of part-time employees, add the number of hours worked by all part-time employees in a given month and divide the total by 120. This gives you the number of FTEs in your part-time workforce.
Then, like shown in the example illustration, calculate the number of hours worked by full-time employees per period by multiplying your employees by 40 and then by 52. Lastly, add the number of full-time employees you have to the full-time equivalent of your part-time employees to get your total FTEs for your organization.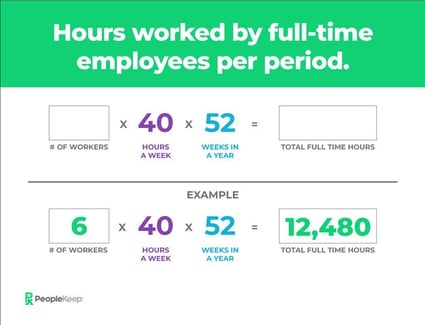 Remember, your business is not considered an ALE if you employed less than 50 FTEs on average during the previous calendar year, or if you employed more than 50 FTEs for no more than 120 days during the previous calendar year.
For more detail on how to calculate your FTEs, download our calculation worksheet!
Conclusion
The ACA makes health coverage a shared responsibility of individuals, employers, and the government to ensure that as many people as possible have affordable health insurance. While the law doesn't require all U.S. employers to offer health insurance to their workers, employers have several ways to confirm their ALE status. Proper calculations are crucial for the organization to ensure they're meeting employer mandate regulations, submitting proper reporting, and avoiding costly penalties.
This article was originally published on November 18, 2020. It was last updated January 21, 2022.